Porsche is continuing its five-decade love affair with the Targa roof design, revealing the eighth generation of the semi-convertible 911 variant.
The new 911 Targa takes up where the last generation model left off – with a fully automatic system that stows the hard-top roof panel behind the rear seats. When operated, the entire rear deck and screen lift up to allow the roof section to fold into the space. This leaves the car's characteristic central roll-over bar in place of the B-pillar behind the door.
The mechanism is able to open and close the Targa roof in 19sec – 7sec slower than the fabric-roofed 911 Cabriolet, which was launched last year.
Porsche describes the Targa as offering "open-top driving in a cabriolet paired with the sleek convenience of a coupé". It retains the familiar silhouette and carries over the styling updates for the 992 generation of the 911, including an integrated LED rear light bar and variably extending rear spoiler. It also keeps the occasional rear seats of the standard coupé and cabriolet.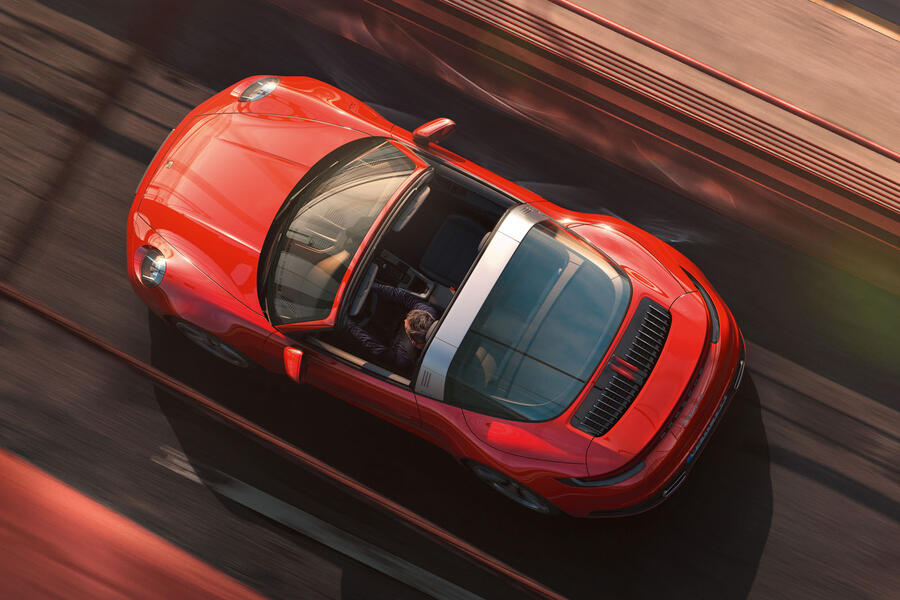 With its complex folding metal roof and standard-fit four-wheel drive, the Targa is the heaviest 992-gen 911 yet. With a kerb weight of 1640kg in 4S manual form, it's 60kg heavier than the equivalent 991-generation 911 Targa, but only 5kg heavier than the equivalent 992-gen cabriolet.
Using the same twin-turbocharged 3.0-litre flat six as its siblings, the base 911 Targa 4 puts out 380bhp and 332lb ft. Fitted with the optional Sport Chrono package, its 0-62mph time is 4.2sec – one-tenth quicker than the outgoing Targa – and its top speed is 180mph.
Also available at launch is the Targa 4S, which puts out 444bhp and 391lb ft for a 0-62mph time of 3.6sec, four-tenths faster than its immediate predecessor. The top speed is 189mph. Porsche claims WLTP combined fuel consumption of 25.9-26.9mpg for the Targa 4, and 25.4- 27.2mpg for the 4S.