Porsche has launched an electrified version of the Cayenne called the E-Hybrid, which inherits technology from the powertrain of the hot-selling Panamera 4 E-Hybrid.
The all-wheel-drive SUV variant uses a 3.0-litre V6 instead of the Panamera's 2.9-litre unit (which is smaller because of a larger crankshaft that shortens the engine's stroke) with an eight-speed Tiptronic S automatic gearbox, but it borrows electric hardware from its liftback sibling to produce up to 456bhp and 516lb ft of torque. This enables a 0-62mph time of 5.0sec and top speed of 157mph.
2018 Porsche Cayenne Hybrid review
Porsche claims an all-electric range of 27 miles and a top speed of 84mph in pure-electric driving. It takes 7.8 hours to fully charge the 14.1kWh battery with a 230V connection. This falls to 2.3hr if an optional 7.2kW on-board charger is fitted. The car's charge rate can be managed remotely via a Porsche Connect app.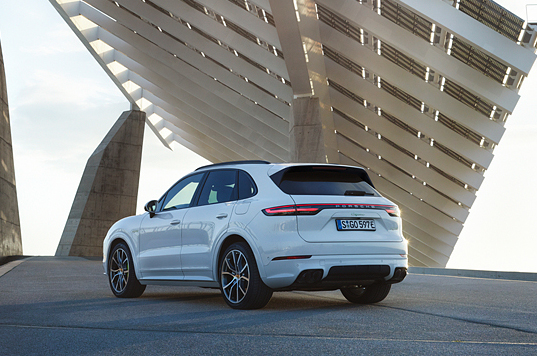 Average fuel consumption for Cayenne E-Hybrid's entire powertrain (according to the New European Driving Cycle) is rated at up to 88mpg. This makes it the most efficient version of the current-generation SUV, overtaking the incumbent petrol V6 alternatives. Porsche doesn't currently have any diesel models on sale, although a diesel Cayenne is due next year.
When pressed, the hybrid powertrain, which is said to benefit from technology first introduced to the 918 Spyder, can provide maximum torque instantly. In Sport Plus mode, Porsche says virtually all of the battery's energy can be used up in a boost. In Sport mode, the fluid-cooled battery provides less energy and is constantly replenished to enable continued boosts of torque.