Porsche is showing its recently revealed 911 Carrera T at the LA motor show.
To create it, the brand dipped into the parts bin created for the highly regarded 911 R and more recently unveiled 911 GT3 Touring in developing the latest in a long line of Porsche 911 models. T stands for Touring.
Conceived as a back-to-basics model based upon the standard 911 Carrera, the 911 Carrera T revives the puristic approach brought to earlier 911 models, including its 1968 namesake the 911 T, with a stripped out interior and the adoption of a series of performance enhancing features not usually made available on the 911 Carrera in a bid to ramp up its dynamic properties and provide a more visceral driving experience.
Available to order now prior to a planned start to UK deliveries in January, the new 911 Carrera T is differentiated from its standard sibling by a number of subtle exterior styling changes, including an altered front bumper with a more prominent splitter element, grey metallic exterior mirror housings, 20-inch alloy wheels, reworked slats within the engine lid and centrally mounted tailpipes pained in black.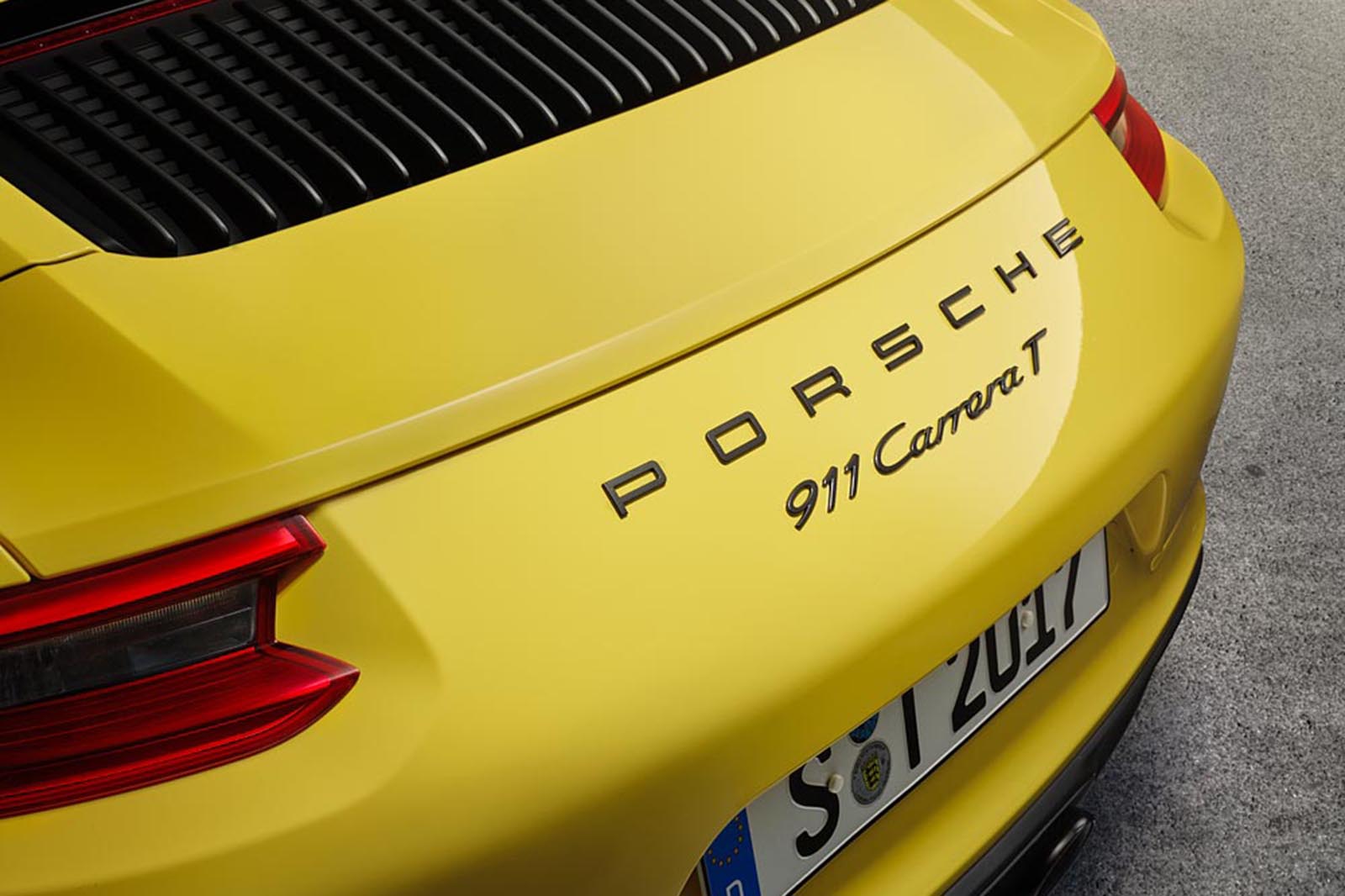 Buyers can choose between nine different exterior colours, including Black, Lava Orange, Guards Red, Racing Yellow, White and Miami Blue, as well as metallic Carrara White, Jet Black and GT Silver.
Inside, there is a leather bound GT sports steering wheel, decorative trims on the dashboard, lightweight four-way electronically adjustable seats with so-called Sport-Tex fabric upholstery and 911 logos on the headrest and a shortened gear lever when specified with the standard manual gearbox.
Among the weight saving initiatives brought to the new 911 model are door trims featuring nylon opening loops, lightweight glass for the rear and rear-side windows, a wholesale reduction in sound deadening material within the body structure as well as the deletion of the rear seats.
There's also a delete option on the Porsche Communication Management system.