It has taken a decade but at last there's an electric Mini that we can buy. Or there will be soon.
Our drive of this prototype is a prelude to the launch of the finished article at the end of this year. That car was initially called the Mini Cooper SE, the S implying equivalence to the 189bhp petrol Cooper S and the E that it's electric - though Mini has now annnounced it will carry the far simpler Mini Electric name. Its motor puts out 181bhp and 199lb ft of torque, the latter slightly adrift of the S's 221lb ft, but they're comparable.
Although there was a 2013 electric Mini concept, the 2009 Mini E project was a more substantial undertaking, being part of a test programme in which more than 500 vehicles were publicly trialled. This full-production electric Mini shares plenty of characteristics with the 2009 Mini E, among them brisk-to-rapid, instantly available acceleration, notable deceleration when you release the throttle and a pleasingly easy drive.
But there are also substantial differences, not the least of them being the restoration of the rear seats and a boot. Both of these spaces had been sacrificed to bulky battery and power electronics in the experimental car. The new version's battery occupies the tunnel running the length of the cockpit and the area previously taken up by the fuel tank to occupy a T-shaped space, requiring almost no changes to the Mini's body-in-white.
That there have been any at all is because BMW, Mini's parent company, did not anticipate that the power density of batteries would improve fast enough to allow a viable pack to be installed in the current Mini hatch. In fact, the battery pack has slightly fewer cells than the BMW i3's, offering 92Ah rather than 94Ah of stored energy, and its protrusion below the floor has necessitated a slight ride height rise. Despite this, the Mini Electric's centre of gravity is lower than the Cooper S's, promising sharp handling.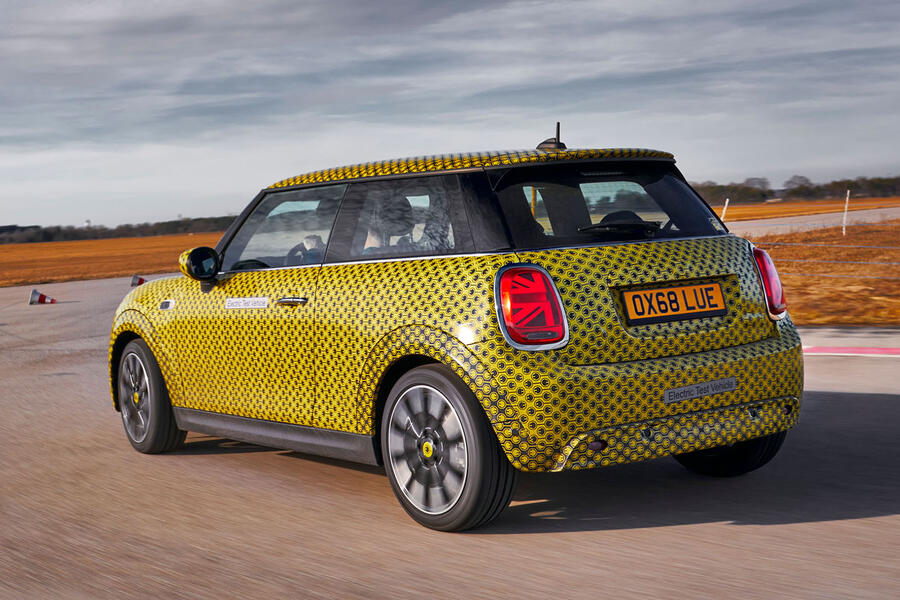 The suspension uses the standard hardware save for some reinforcing of the lower front arms, the spring and damper settings also altered to suit the additional weight and its revised distribution. More subtly, the cosmetic wheel-arch extensions have been widened to compensate for the ride height gain and the reduced choice, compared with the Cooper S, of smaller 16in or 17in wheels.