Mercedes-Benz has officially previewed its EQA electric crossover, which is undergoing winter testing ahead of an expected unveiling in November.
Although the car is still disguised, the new images show that the firm's second fully electric model will bear a close resemblance to the combustion-powered GLA on which it is based. Styling features unique to the electric model will likely include a blanked-off front grille, bespoke light clusters and aerodynamically focused wheel designs.
Speaking at the reveal of the second-generation GLA last year, Mercedes boss Ola Källenius stood beside a preview image of the EQA, showing a bodystyle closely linked to that of the new crossover. "It's definitely a love child," he said, referencing the EV's resemblance to the GLA.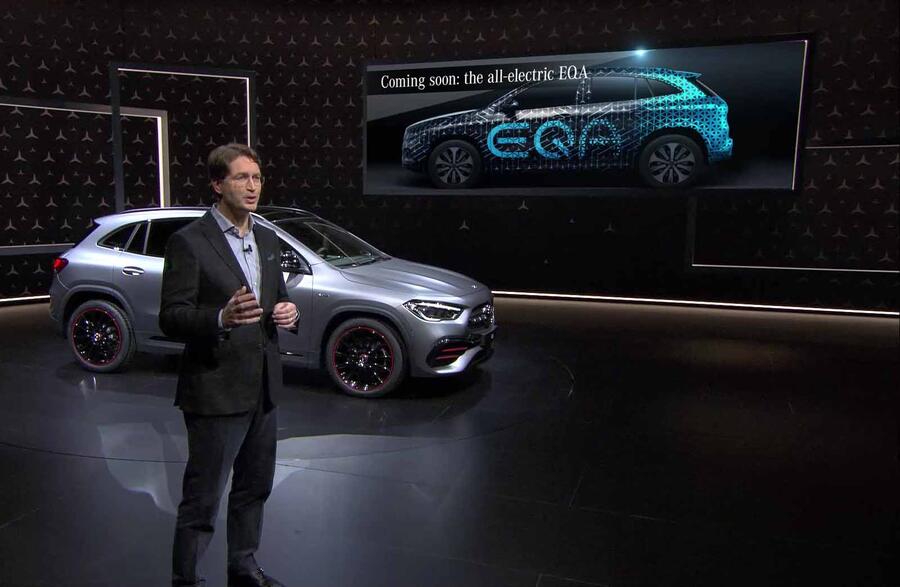 Autocar first uncovered that the EQA would be a crossover, rather than a hatchback as originally expected, when a prototype was spotted in an underground car park in Stuttgart, Germany, plugged into to an EV public charging unit.
The GLA makes a more suitable base than a hatchback for an all-electric model like the EQA because the higher roofline allows more space to be used under the seats to house battery cells without noticeably harming interior room. Mercedes' EQ EV division has also launched its first electric model, the Mercedes-Benz EQC, as an SUV, with the GLB-based EQB soon to follow.
Although the Concept EQA of the 2017 Frankfurt motor show was a three-door hatchback, the GLA-based production car looks to take many of the show car's visual cues, including a blanked-off front grile and unique front fascia, along with bespoke front and rear lighting.