Mercedes-Benz will unveil an electric MPV concept at this year's Geneva motor show, previewing a rival machine to the forthcoming Volkswagen ID Buzz.
Confirmed at the launch of the facelifted V-Class MPV, the Concept EQV is described as a 'near-series study' that will likely closely mirror the production version. It's the fifth confirmed vehicle in the German firm's electric EQ range, following the EQC SUV that launched last year and the forthcoming EQA hatchback, EQB small SUV and EQS luxury saloon. Those models, along with the EQV, are all due to go on sale by 2022.
Mercedes-Benz Vans board member Wilfried Porth described the EQV as the firm's "next big statement" in the class.
The production model will be developed by Mercedes' van division and closely related to the firm's future electric commercial vehicles, in the same way the V-Class is heavily based on the Vito van.
Mercedes-Benz Vans already offers the electric eVito and will launch the eSprinter later this year. The eVito is based on the architecture of the regular van and is intended as a 'last-mile' delivery vehicle suited to urban use. It's powered by three lithium ion batteries with a total capacity of 41.4kWh, connected to a 113bhp, 221lb ft motor, providing a range of around 93 miles.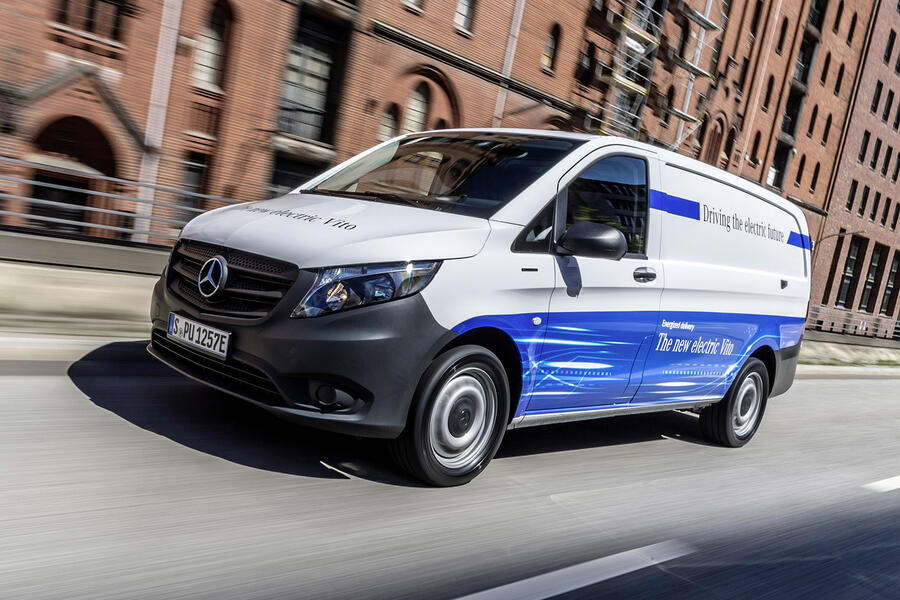 While the EQV is likely to be based on a reworked version of the current V-Class/Vito platform, rather than a bespoke EV architecture, it will have considerably greater power and range than the eVito.
The current V-Class is offered in three lengths, with a flexible interior allowing it to seat up to eight people or be outfitted in 'luxury' configurations. It's also offered as the Marco Polo campervan. The EQV would likely mirror this range of options and potentially offer even more flexible interior space, due to the electric car architecture that would likely involve underfloor battery packs.