Jaguar and Alfa Romeo are car makers with an awful lot in common, when you come to think about it. And although I dare say the management at neither Gaydon nor Turin would particularly welcome the observation, they seem fated to compete more closely than ever in the developing premium car market of the near future.
Both brands attract a certain sort of buyer; one with a preference for a classically good-looking driver's car and, quite possibly, a subscription to a car magazine not unlike the one you're now reading. A certain sort of buyer like you and me, in short. And both car makers have aspirations one day to stand shoulder to shoulder with the German premium-branded automotive industry powers – although it won't be any day soon.
Jaguar is currently significantly more successful than Alfa on a global basis, but you need go back less than a decade to find a time when the Italian outfit was much the bigger of the two in volume terms. And yet both brands shifted an almost identical number of new cars to European buyers last year: 66,000, give or take a few. For the next decade or so at least, 'Jaguar versus Alfa' should be a coverline that crops up time and again on the front of Autocar – and I'd like it think it'll always describe a story worth reading.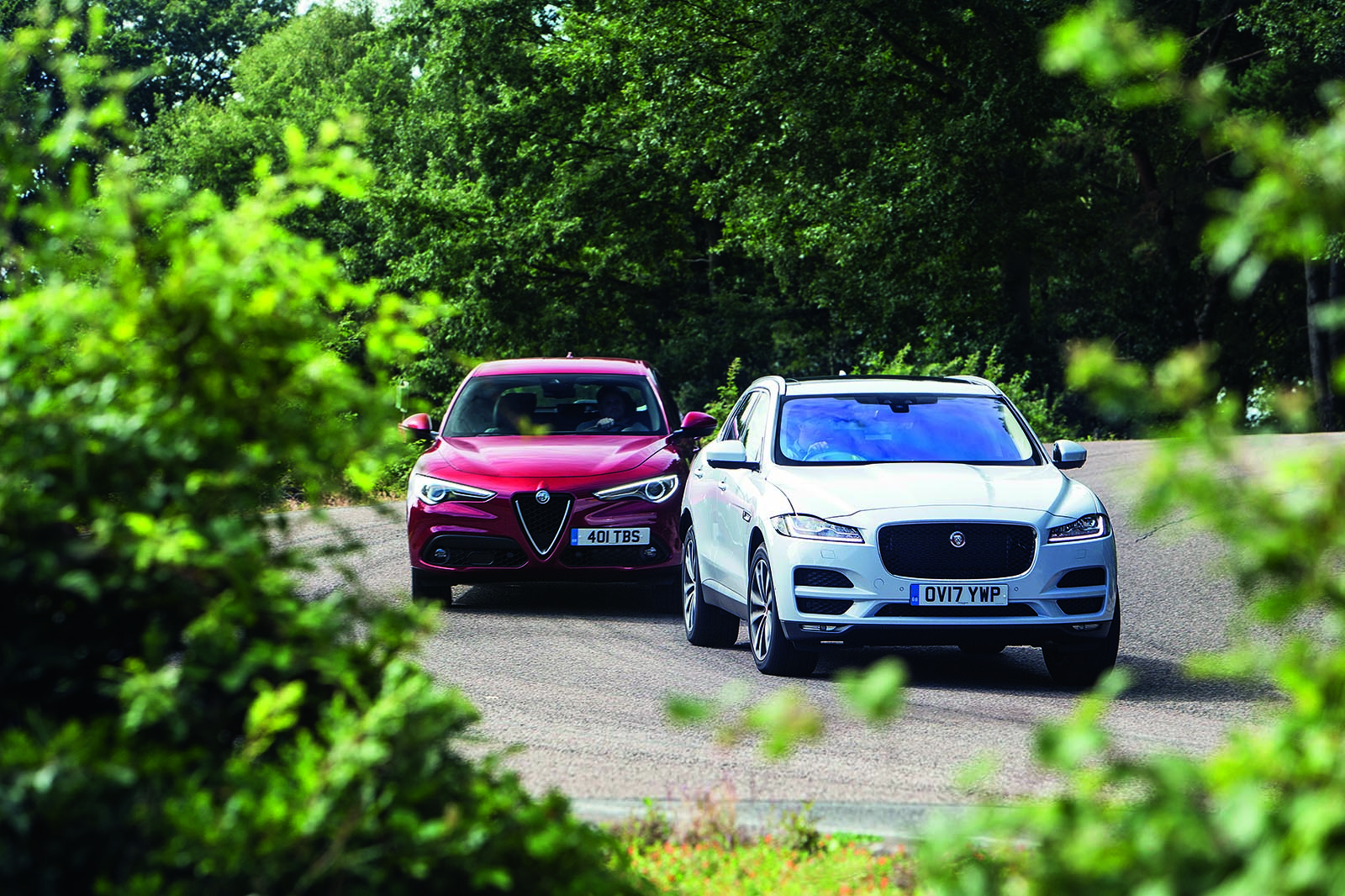 We've had one instalment of the Jaguar-versus-Alfa battle already this year, when a Giulia 2.2-litre diesel saloon dominated an XE 2.0d in a group test for driver appeal, only to surrender the initiative and ultimately lose out as a rounded premium product. Now for instalment number two.
Neither Jaguar nor Alfa Romeo has been a member of the SUV-making fraternity for long but, with the introduction to UK showrooms of the new Stelvio this month, both are now well and truly in the club; and, since both are intent on a fast rate of growth, neither can really afford not to be. Jaguar introduced the Jaguar F-Pace last year but has taken until now to complete the car's model range, with the addition of the high-powered four-cylinder diesel engine that many will consider the optimum propulsive option: the new Ingenium 25d. Unfortunately for Jaguar, that has happened just as the first real challenger to the Jaguar F-Pace's unique sporting selling point among its immediate competitors has materialised, in the shape of the Alfa Romeo Stelvio 2.2-litre diesel – a car that's not only cheaper than the F-Pace but also lighter and, on paper, quicker-accelerating and more efficient.