Dyson's electric car, due to arrive in 2021, is likely to be a long, sleek crossover-style premium saloon that will have roughly the same footprint as a Range Rover but with completely different proportions from the classic British 4x4 – and every other production car on the road.
Key details of billionaire inventor James Dyson's thinking on electric vehicles have dramatically emerged from three patent applications made public today. They cover the car's ultra-long wheelbase, unique 'crossover' body, unprecedentedly large and thin wheels, short body overhangs and unusually 'fast' windscreen.
As a caveat, though, Dyson's famously secretive people emphasise that their images – and therefore ours – don't necessarily show exactly what their car will look like, only some design and engineering devices likely to be used by it.
James Dyson: why we're building an electric car
The Dyson car, whose long-rumoured existence was confirmed late in 2017 when the inventor revealed plans to spend £2.5 billion of his own money on it, has been taking shape for the past two years. Work has been led by former Aston Martin chief engineer Ian Minards, who joined Dyson in September 2016 as vice president, automotive.
The new Dyson patents show nothing less than a complete rethink of big-car design and engineering conventions for the fast-approaching electric age. The refinements are aimed at delivering low weight and low aerodynamic drag to maximise performance and battery range while providing generous cabin space and first-class ride comfort, a particular Dyson priority.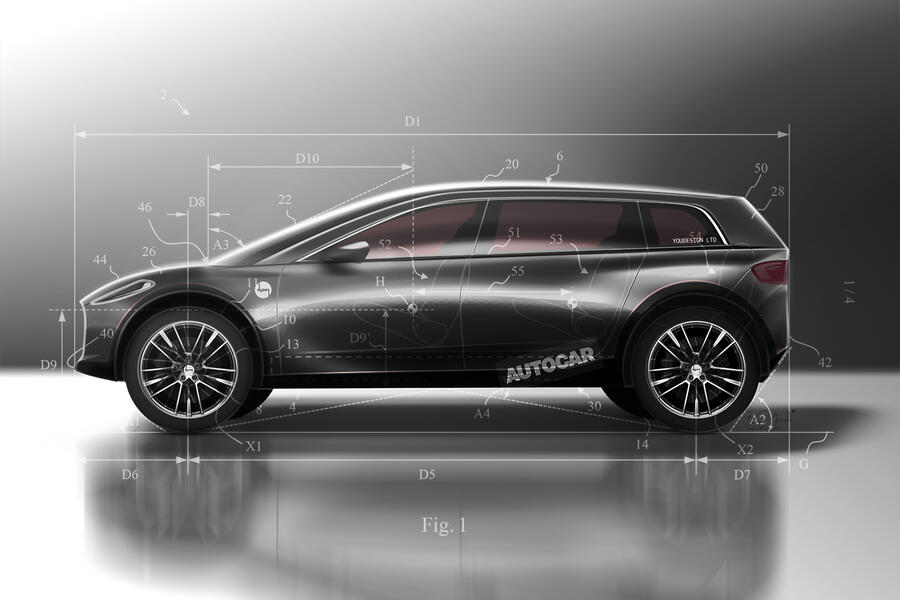 Autocar spoke exclusively this week to company founder Sir James Dyson at his base in Singapore, where electric cars will ultimately be manufactured after an initial batch is built at the company's £200 million automotive HQ currently under construction in Wiltshire.
This new facility already contains a dedicated technical centre for a 500-strong body of engineers – both Dyson regulars and hirings from car makers such as Tesla and Jaguar Land Rover. It will eventually spread across six comprehensively converted wartime aircraft hangars on the 517-acre former RAF Hullavington airbase near the M4 motorway in Wiltshire. A prototype manufacturing facility will open there next month and a 10-mile test track is also under construction.