Volkswagen is progressing ever faster towards a future of new electric-powered models under its recently created ID sub-brand.
The German company's plan, which is budgeted to cost up to €44 billion, have been meticulously conveyed with the unveiling of a series of six different concept cars over the past four years, the latest of which is the eye-catching ID Buggy - a likeable back-to-basics two-seater inspired by the classic Meyers Manx dune buggy.
The high-riding, battery-powered concept, which does without doors and a fixed roof, was conceived to inject some fun and flippery into the upcoming ID family. It also showcases the impressive modularity and versatility of Volkswagen's MEB electric car platform, which will make its production debut next month underneath the new ID 3 family hatchback.
However, the ID Buggy is more than just for show. Volkswagen says it is genuinely serious about placing the machine into production as a low-volume addition to the future ID line-up. It has even taken the unusual step of seeking out possible partners capable of handling small-scale production, suggesting it could licence the MEB platform to companies interested in building an electric modern-day recreation of the Manx.
While there's no official confirmation whether production will happen yet, the good news is that the one and only ID Buggy in existence right now is driveable - albeit at low speeds only.
It attracts plenty of attention as we cruise down 17-Mile Drive outside Monterey in California. It turns heads everywhere it goes, attracting a battery of smartphones as crowds jostle to snap a photograph.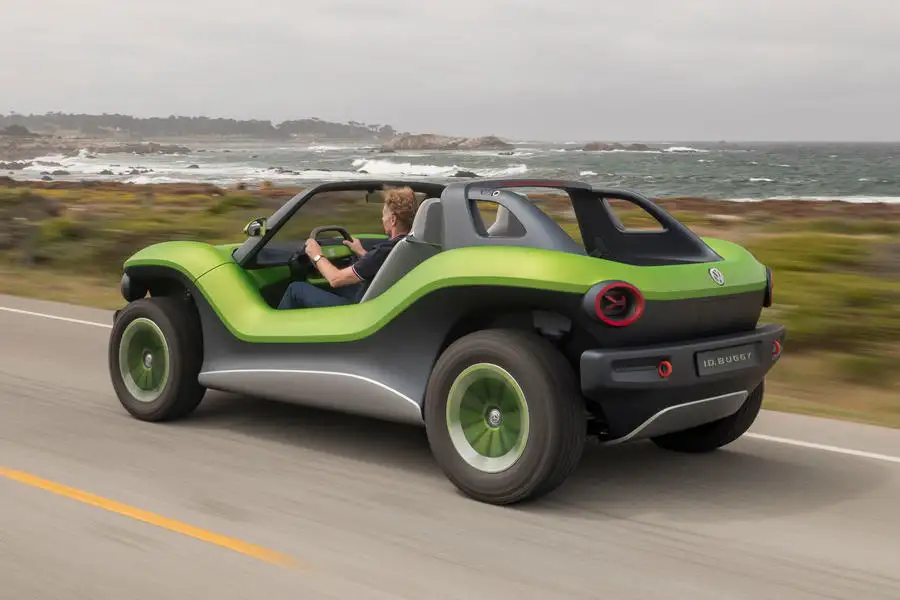 It successfully updates the look of the Manx with a friendly face featuring a low-set bumper and round headlights that contain daytime running lights and pupil-like dipped and main beam projectors.