Byton has revealed the interior design of its upcoming M-Byte electric SUV ahead of the car's global launch later this year.
The near-final design, which was revealed at the CES technology show in Las Vegas, uses an evolved version of the wraparound digital dashboard and steering-wheel-mounted touchscreen seen in the original concept.
The 48in curved 'Shared Experience Display' has been reinforced to resist shattering in the event of an accident. An 8.0in touchpad in the centre console will allow either front-row occupant to control the main screen, which is split into three sections for driver information, navigation and multimedia playback.
It is also used to show images from three rear-facing cameras: two take the place of the wing mirrors, with a third mounted in the car's rear. The brightness and background colour of the display adjusts automatically to suit lighting conditions. Two further screens are fitted to the front seats for rear passengers.
The 7.0in touchscreen in the steering wheel sits slightly upward from the centre to make room for an airbag. Selecting a gear is done through physical buttons on the wheel, rather than with a traditional gearstick or stalk. Other physical buttons will be used only when legally required, such as for activating hazard lights.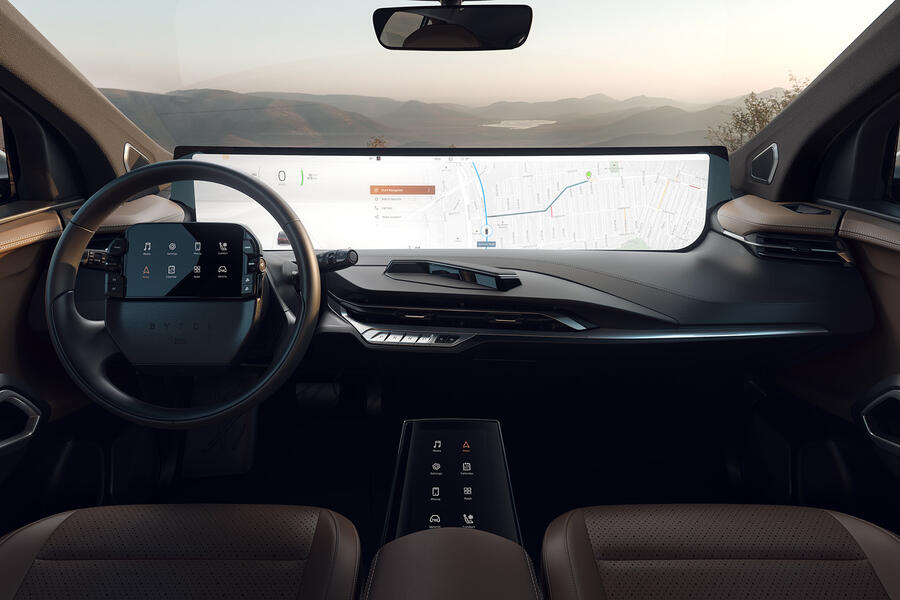 Voice recognition will allow for hands-free controls, with Byton partnering with Amazon to integrate the Alexa voice assistant. Facial recognition is also promised as a feature, identifying the driver to load specific profiles.
In what will be a first for any production car, the M-Byte will also feature inward-rotating front seats, for when the car is operating in autonomous mode. The company plans to support level three autonomous driving at launch.
Byton also revealed more details about the car's powertrain. The M-Byte's power will be stored in modular lithium ion batteries that form part of the vehicle chassis, with 71kWh and 95kWh capacities promised. Byton says the car will have a range of 248 miles, increasing to 323 miles with the upgraded battery pack.