The most powerful series-production Audi yet will take the form of a large SUV when it is launched next year as the RS Q8.
Caught on camera during development testing at the Nürburgring, Audi Sport's future Mercedes-AMG GLE 63 rival, which is clearly influenced in design by the RS Q8 concept of 2017, will inherit the twin-turbocharged V8 petrol engine and accompanying electric motor of the Panamera Turbo S E-Hybrid from Volkswagen Group stablemate Porsche.
In the super-saloon, the V8, which is force-fed air by a pair of twin scroll blowers, produces 542bhp and 568lb ft of torque, while the electric motor injects a further 134bhp and 295lb ft of torque through an eight-speed twin-clutch automatic gearbox.
In full operation, the combined system output peaks at 670bhp and 627lb ft. With the same level of potency, this would make the RS Q8 Audi's most powerful model, eclipsing the output of the R8 V10 Plus by 68bhp and 214lb ft.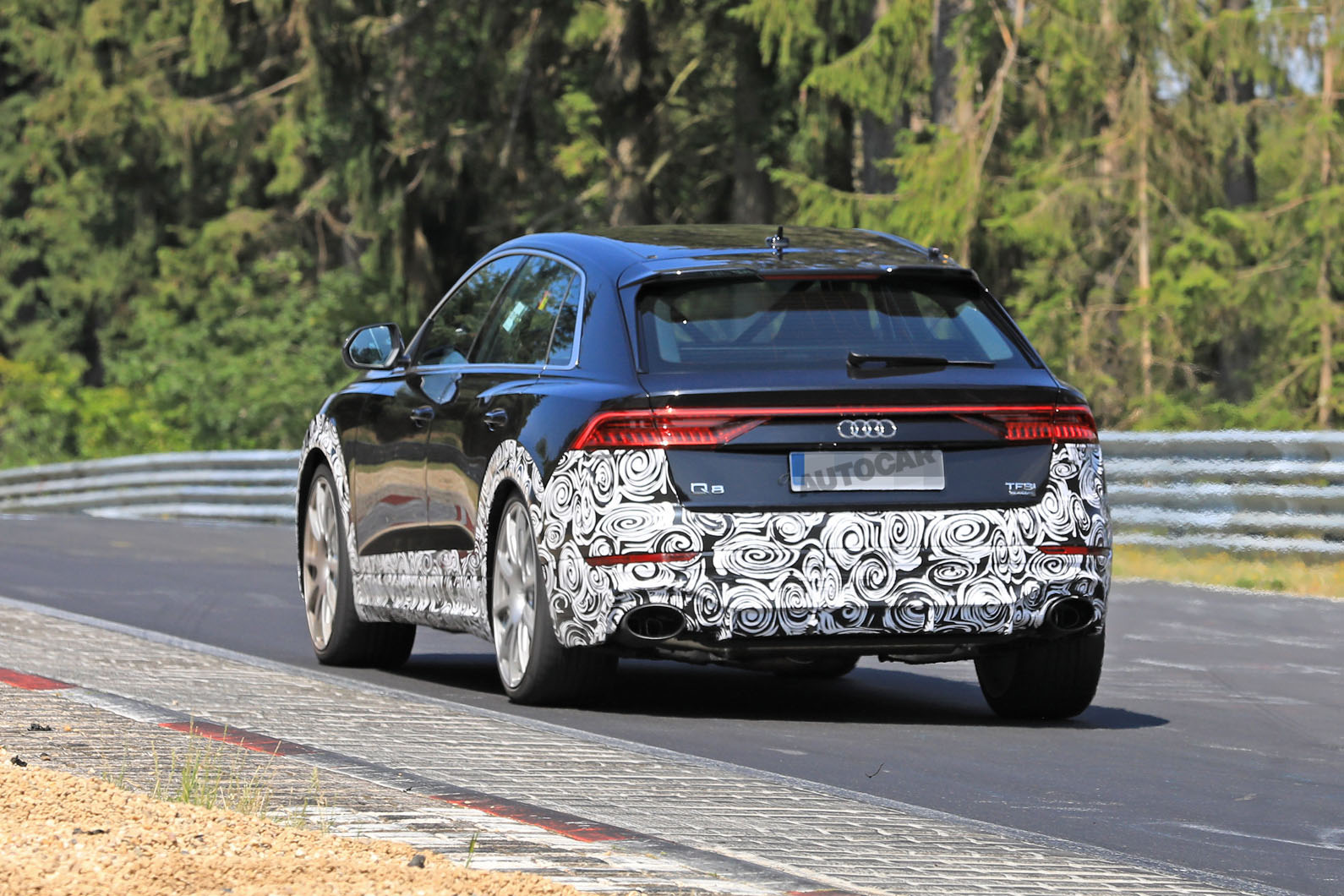 While the RS Q8's inevitably heftier kerb weight will ensure it'll be no match for the supercar and its more athletic performance on the road, the electrified SUV will at least offer a wider range of driving characteristics, bookended by its pure electric and Sport modes.
In pure electric mode, the electric half of the car's powertrain, which will make use of lithium ion battery cells located under the car's boot floor (and therefore impacting on luggage space), is likely to offer around 27 miles of range. But switch to the energy-intense Sport mode and the RS Q8 should dispatch the 0-62mph sprint in around four seconds.
By comparison, the 577bhp GLE 63 and rivalling 567bhp BMW X6 M both take 4.2sec to hit the mark, while the Range Rover Sport SVR takes 4.3sec. All of these cars use pure-combustion, turbocharged V8 powertrains.