The next Aston Martin Aston Martin Vantage will have "more than 500hp and 505lb ft of torque" when it is revealed on the 21 November.
Aston Martin dynamics chief engineer Matt Becker revealed the statistics and also that the Vantage will have a dry weight of 1530kg in a new promotional video (below), which features Red Bull Racing ace Max Verstappen.
2018 Aston Martin Vantage revealed
Verstappen has provided Aston Martin engineers with feedback on the car as part of the brand's partnership with the Formula 1 racer's team. Part of his stint in the car, which will use the Mercedes-AMG V8 engine recently launched in the Aston Martin DB11, is shown in the video.
The Vantage's 4.0-litre twin turbocharged V8 is supplied as part of a technical collaboration between Aston Martin and Mercedes-AMG and will use the former's software. In the V8 DB11, it's good for 503bhp, suggesting the Vantage could produce the same.
That extra power over the existing 430bhp in the current V8 Vantage is set to help undercut the outgoing 0-62mph time of 4.8sec, edging the car closer to 4.0sec. The top speed will exceed 190mph. Aston Martin is expected to offer the new Vantage with a choice of a six-speed manual or dual-clutch automatic transmission.
Becker also confirms that the car's wheelbase is 100mm shorter than the Aston Martin DB11 in the video. The new car's aluminium structure is based on the one used by its larger sibling, but will be engineered to offer enhanced agility and adjustability.
The car featured in the video is a second-phase development model, having come after the first mule and with two more cars due to follow. Although the Vantage's design is yet to be finalised, the current test car offers a good insight to how it'll look.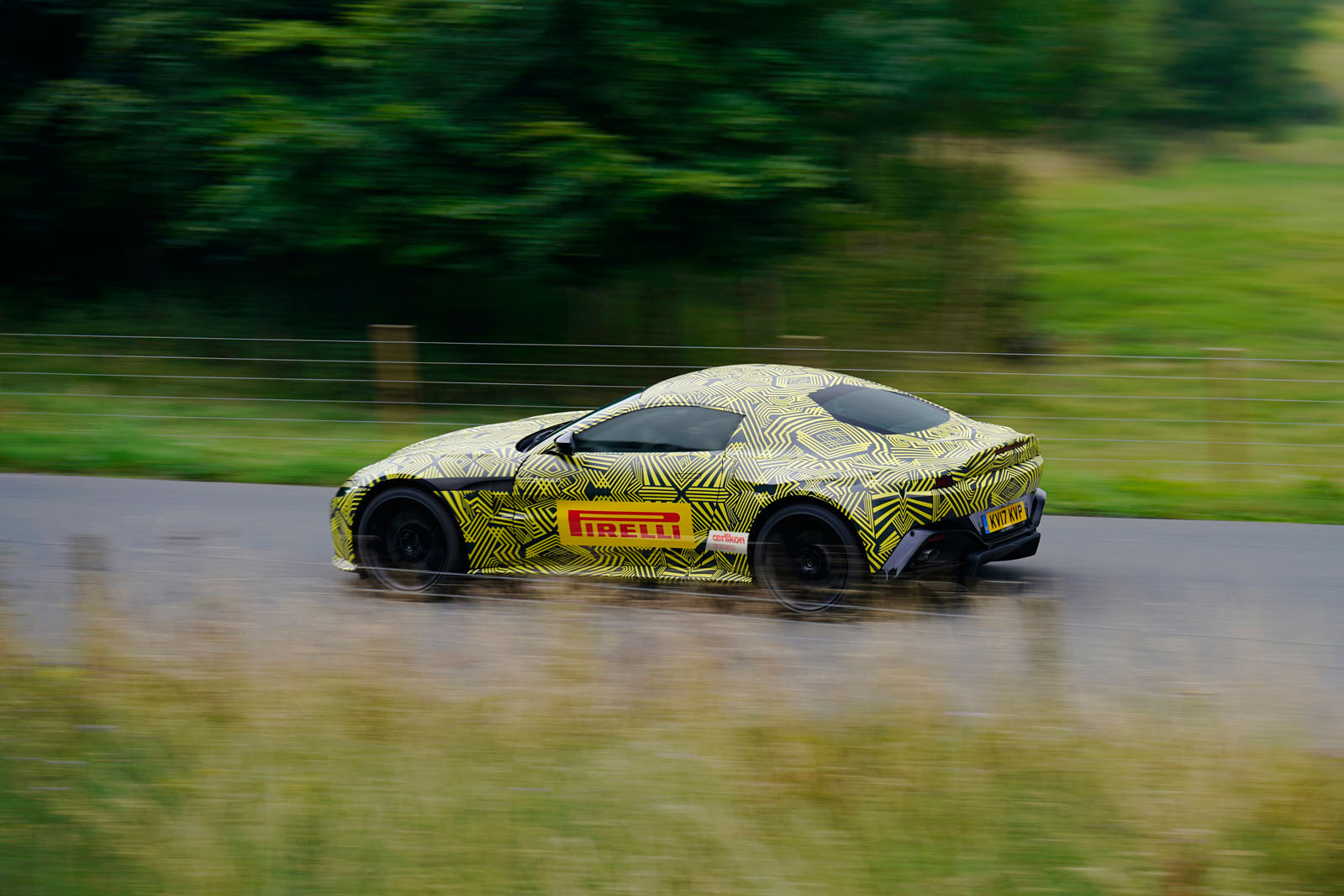 It sports a cleaner front end with a far more prominent grille than on the DB10, to which it has in the past been compared in terms of styling. Patent images that more clearly show the exterior's design (they first appeared on Autoguide) also reveal a large rear diffuser, and subdued styling, with the lights occupying a thin strip on the car's top trailing edge.