The production version of the Volkswagen Crossblue concept will be called the Atlas, according to reports on Automobilwoche, the German version of Automotive News.
The VW Atlas has now been revealed. Click here for more.
The reports come six months after the Atlas name was first trademarked by VW in the US.
Volkswagen has neither confirmed the name of its production Crossblue nor shown images of the finished product. But earlier leaked pictures of what Auto Sina reported was a pre-production car surfaced online back in August. They're shown in the gallery.
The seven-seater is based on the Crossblue concept of 2013, and the leaked images suggest the final model will stay true to that car's design.
Its styling has evolved from the large SUV look first seen on the new Tiguan and due to be integrated onto the exterior of the 2017 Touareg. However, the Crossblue gets its own distinct features, which include a muscular bonnet and squared-off wheel arches, to give it a more rugged appearance.
When launched, the production car will slot between the Tiguan and Touareg in Volkswagen's growing SUV line-up.
Autocar sampled the Crossblue concept back in 2013. That car had a 187bhp 2.0-litre diesel engine supported by two electric motors – a 54bhp one sited next to the combustion engine at the front, and a 114bhp one mounted at the rear. Together, the three power sources provided a combined 302bhp, with a peak torque figure of 516lb ft.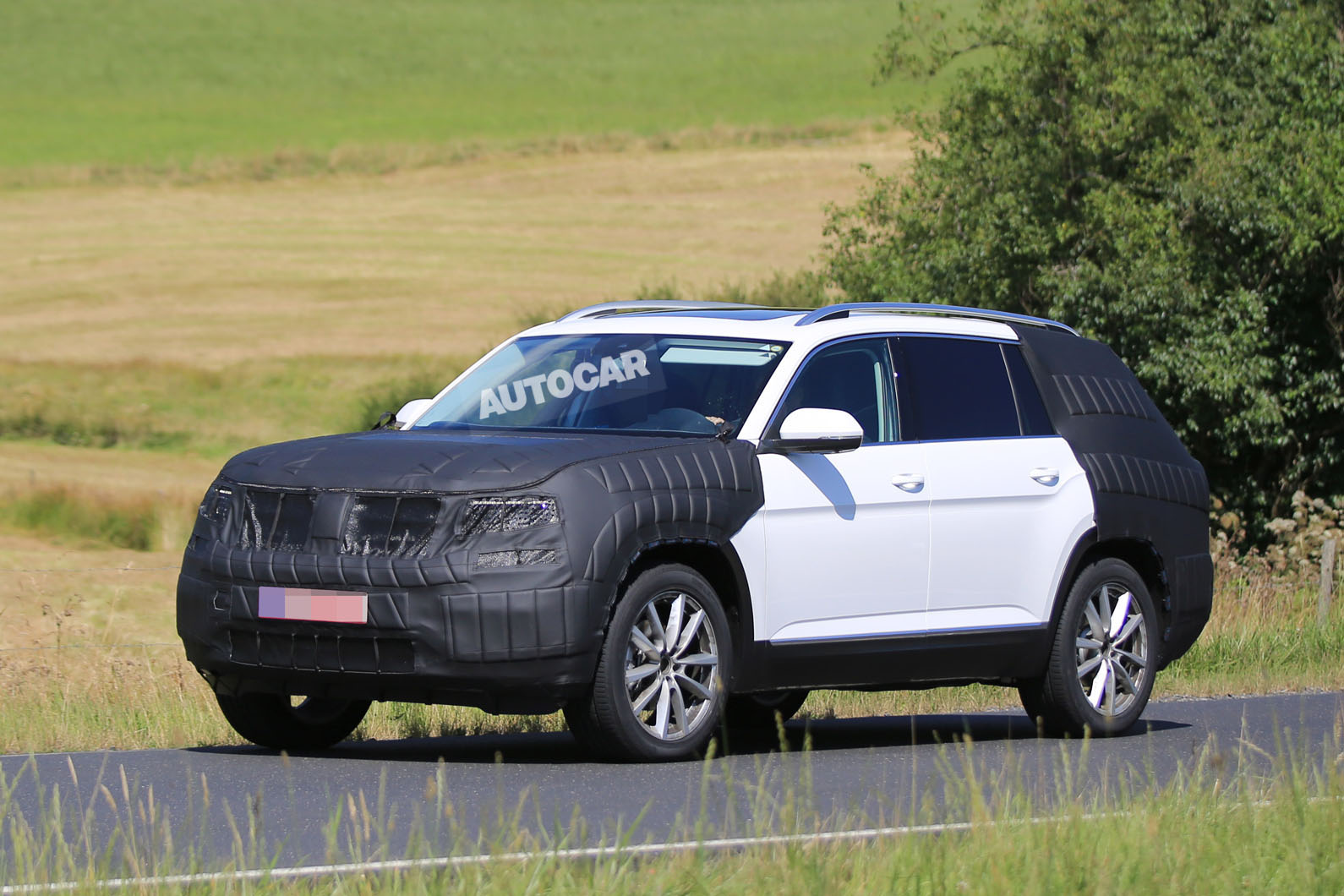 Energy for the electric motors was supplied by a 9.8kWh lithium ion battery mounted in the floor of the cargo area.
A hybrid drivetrain resembling this is unsurprisingly expected to be included in the Crossblue's engine line-up, alongside more conventional turbocharged four-cylinder diesel and petrol engines. A turbocharged V6 engine could also be offered in certain markets, with today's leaked images, which show a 'V6' badge on the rear of the car, appearing to back this speculation up.
As standard, the Crossblue production model will have front-wheel drive, with four-wheel drive available as an option and possibly standard on the most powerful models.
Volkswagen hasn't let slip when the Crossblue will make production, but a 2017 debut at the Detroit motor show is likely. Autocar understands the model won't make it to the UK, and instead will focus on the US and Chinese markets.
A sportier Crossblue Coupé, as previewed by Volkswagen's Shanghai 2013 concept, could be produced further into the future.