The new Mini Mini Countryman S E will be added to the new Countryman range this June, priced from £31,585 (or £27,085 with a government grant).
Click here to read our review of the Countryman S E
The petrol-electric model offers all-wheel drive by combining the three-cylinder petrol engine with a six-speed automatic transmission, which drives the front wheels, and an 88bhp electric motor mounted on the back axle and driving the rear wheels through a two-speed transmission.
With all power sources running, the Countryman S E has peak outputs of 221bhp and 284lb ft of torque, and can accelerate from 0-62mph in 6.9sec. Mini says it's possible to travel 25 miles or up to 78mph in battery-only mode.
The hybrid's lithium ion battery is mounted under the slightly raised rear seat. Made at BMW's Dingolfing factory, the 7.6kWh unit can be recharged in 3hr 15min from an ordinary wall plug and in 2hr 15min via a specialist wall box. Packaging the battery under the rear seats means that the hybrid model's fuel tank has been shrunk to just 35 litres. The hybrid's official EU figures are 49g/km of CO2 emissions and combined fuel economy of 134.5mpg.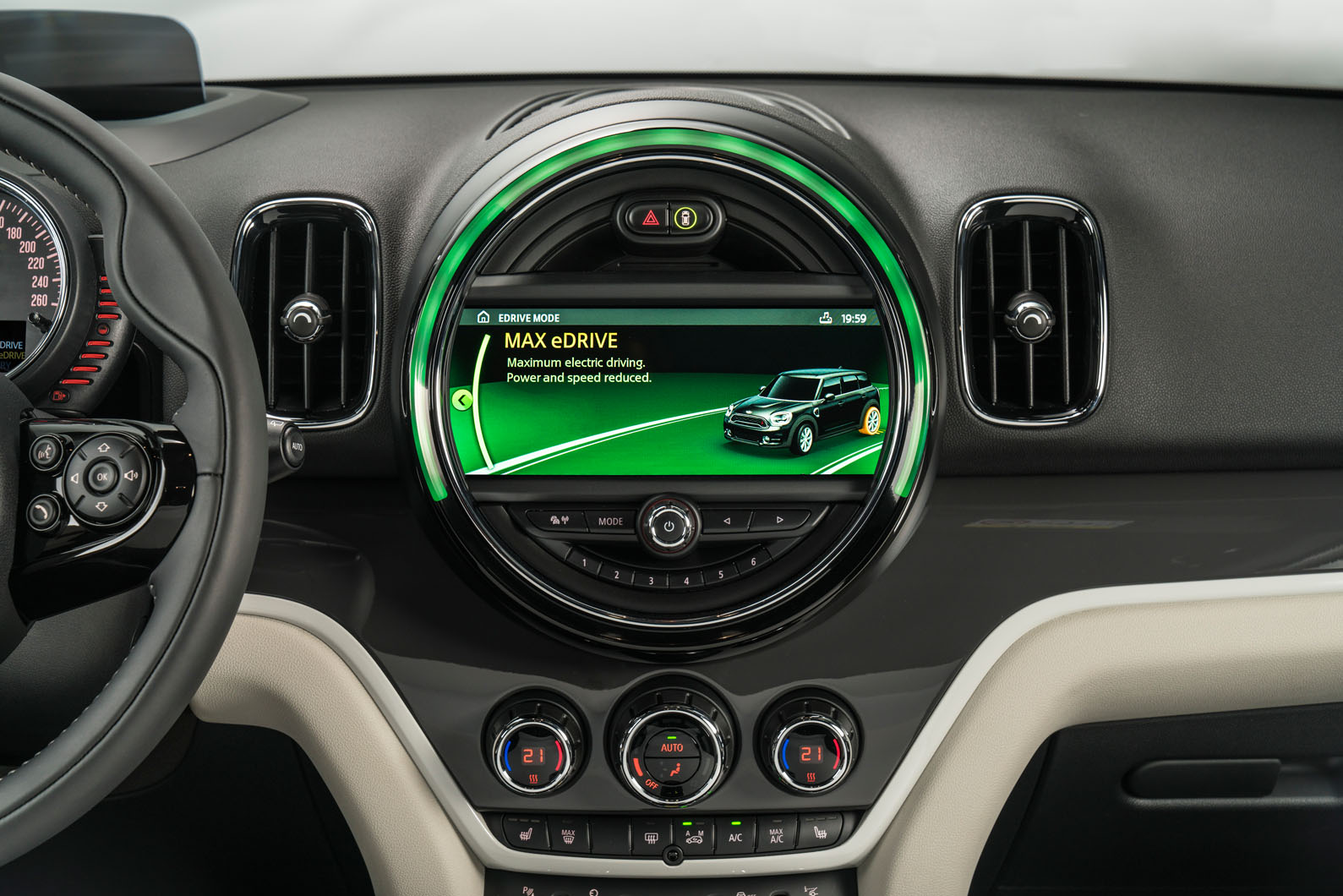 Wider Countryman range
The S E joins the wider Countryman range, which is already on sale and priced from £22,465. The SD All4 version — the range-topping regular model — costs £29,565.
The new Countryman is the largest Mini model yet, measuring 20cm longer, at 4.3 metres, and 3cm wider than the six-year-old outgoing model. An extra 7.5cm has been inserted into the wheelbase. Mini says the Countryman is now firmly anchored into the C-segment, making it an alternative to everything from a Volkswagen Golf to premium compact SUVs, such as the Audi Q3.
In the metal, the new Countryman looks significantly more masculine than its predecessor. Although it is recognisably a development of the original, the deep sides, large wheels and notably squared-off rear corners give it much more four-square stance. The headlights are a similar shape to those of its predecessor but less dominant and the classic Mini grille is slightly less prominent.