Mercedes-Benz has revealed the first of two planned AMG variants of the new fifth-generation Mercedes-Benz E-Class: the twin-turbocharged V6-powered E43 4Matic saloon.
The E 45 made its official debut at the New York motor show before a scheduled UK sales launch in September, the 395bhp four-door is the fourth in what Mercedes-Benz says will be an extended range of second tier AMG models to rival similarly conceived offerings from Audi's S and BMW's M Performance line-ups.
Like the recently revealed SLC 43, C43 Coupe 4Matic and C43 Convertible 4Matic, the new E43 4Matic saloon is powered by a reworked version of Mercedes-Benz's twin-turbocharged 3.0-litre V6 petrol engine with added turbocharger boost pressure, revised software mapping and a two-stage exhaust.
Yet, while the AMG-fettled engine delivers 362bhp at 5500rpm in the SLC 43, C43 Coupe 4Matic and C43 Convertible 4Matic, the 2996cc unit receives a further series of power enhancing changes, including larger turbochargers running 1.1bar of boost pressure, for use in the E43 4Matic.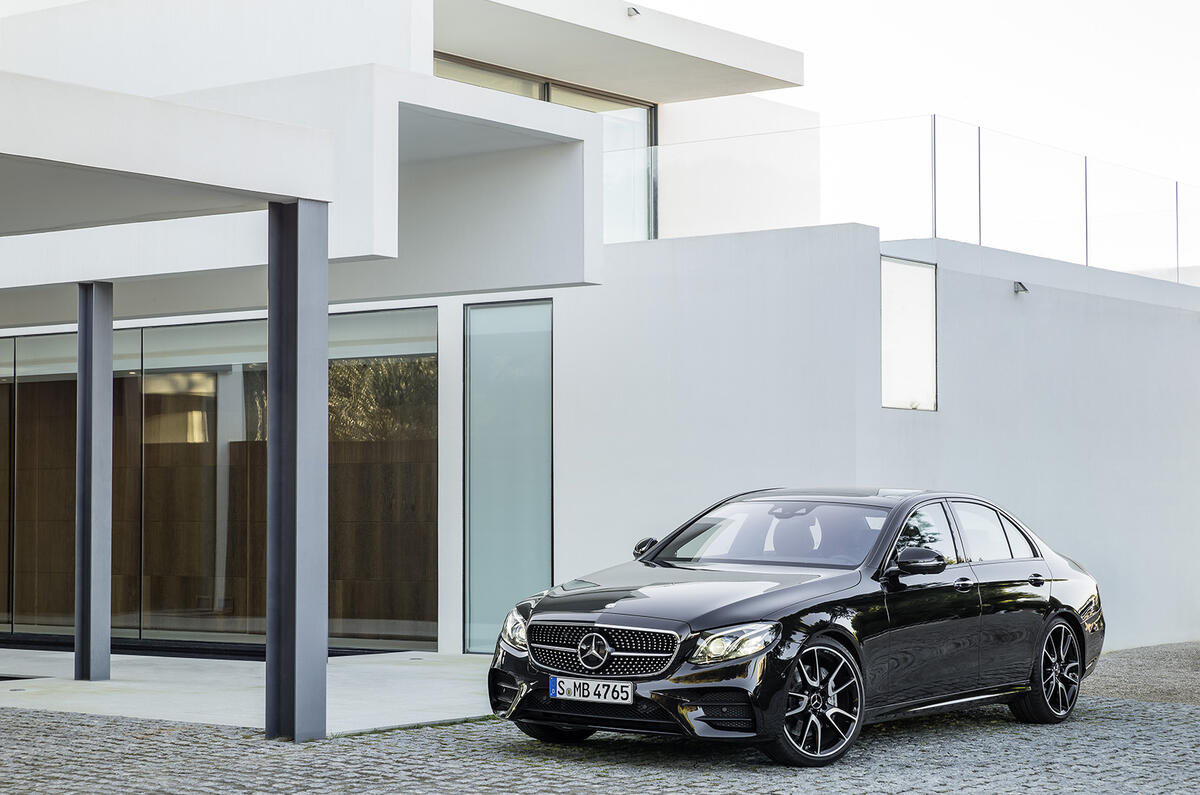 As a result, power has increased a further 33bhp beyond the base unit, providing the E43 4Matic with a sturdy 395bhp at a higher 6100rpm. Significantly, the revised engine delivers a higher specific output than the 502bhp version of AMG's dedicated twin-turbocharged 4.0-litre V8 at 132bhp/litre versus 126bhp/litre.
With an official 1765kg kerb weight, this endows AMG's latest model with a power-to-weight ratio of 224bhp/tonne. Torque, meanwhile, remains the same as other new AMG models fitted with the V6 engine, peaking at 383lb ft between 2500rpm and 5000rpm.
In comparison, the Audi S6 saloon's twin-turbocharged 4.0-litre V8 delivers 444bhp and 406lb ft of torque.
As on the C43 Coupe 4Matic and C43 Convertible 4Matic revealed at the Geneva motor show earlier this month, the E43 4Matic channels its reserves through a standard nine-speed automatic gearbox with a column mounted shift lever and a specially developed version of Mercedes-Benz's 4Matic four-wheel drive system with a nominal 31:69 front-to-rear drive split.