Having matched Michael Schumacher's record for the most pole positions, Lewis Hamilton resisted race-long pressure from title rival Sebastian Vettel to secure victory in the Belgian Grand Prix.
In his 200th race, Mercedes ace Hamilton outdragged fellow front-row start Vettel on the run to Spa-Francorchamp's tight first turn, and son built a narrow lead over the Ferrari driver.
Vettel, who recently signed a three-year contract extension to stay at Ferrari, pushed Hamilton throughout the race, and closed right in following a late-race safety car period. But Hamilton made a clean restart, pulling out enough of a gap to secure his 58th career win in his 200th start.
"It was fun to be racing against another team, with Sebastian at his best and the car at its best," said Hamilton. "We were just battling within half a tenth every single lap and that's what racing is all about."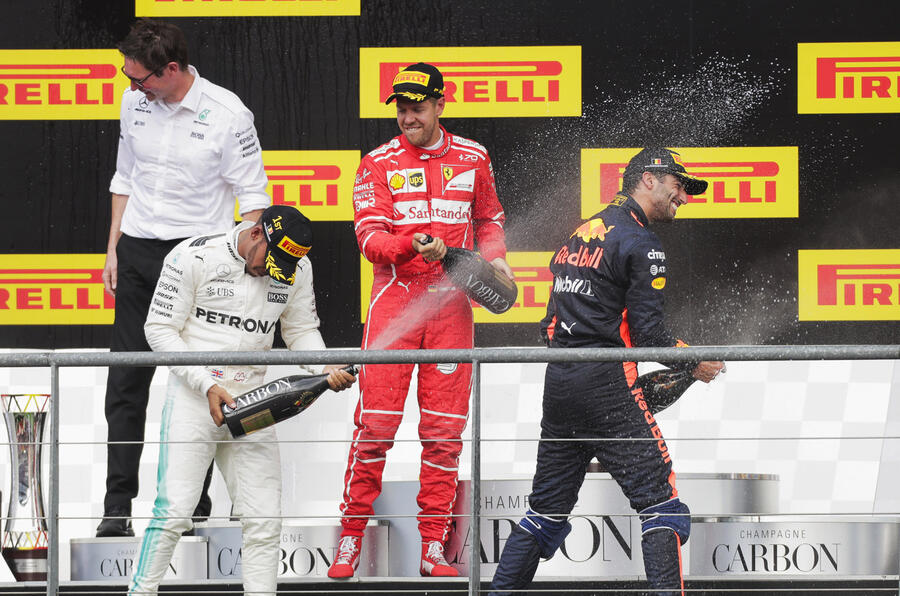 Hamilton, who now trails Vettel by seven points in the standings, had already made history on Saturday. He claimed the 68th pole of his career, to match the all-time F1 record set by seven-time champion Michael Schumacher.
Valtteri Bottas (Mercedes) and Kimi Raikkonen (Ferrari) battled for third early in the race, until Raikkonen was handed a ten-second stop-go penalty for failing to slow for yellow flags. But the safety car period, sparked by Force India drivers Esteban Ocon and Sergio Perez making contact, eroded Bottas' advantage and allowed Red Bull's Daniel Ricciardo to jump the pair of Finns and claim the final podium spot.
Raikkonen finished fourth, ahead of Bottas. Nico Hulkenberg finished sixth in his Renault.
The event marked the 25th anniversary since Michael Schumacher claimed his first Formula 1 victory. To celebrate the occasion his son Mick completed a demo lap of the circuit in the Benetton-Ford Schumacher used to claim his first world title in 1994.