Leaked photos from a recent meeting of Ford dealers in Las Vegas, US, appear to show a smaller sibling to the upcoming Bronco SUV.
Also visible in the image is a shadow from a larger car, which could be that of the full-size Bronco, which Ford has previously detailed.
Update: the Ford Bronco has now been revealed. Click here to see it
While the smaller car, expected to arrive in 2020, will be positioned to rival such cars as the Jeep Renegade and Mazda CX-3, the larger will sit atop the four-wheel drive platform of the Ford Ranger pick-up truck in a bid to enhance its off-road credentials.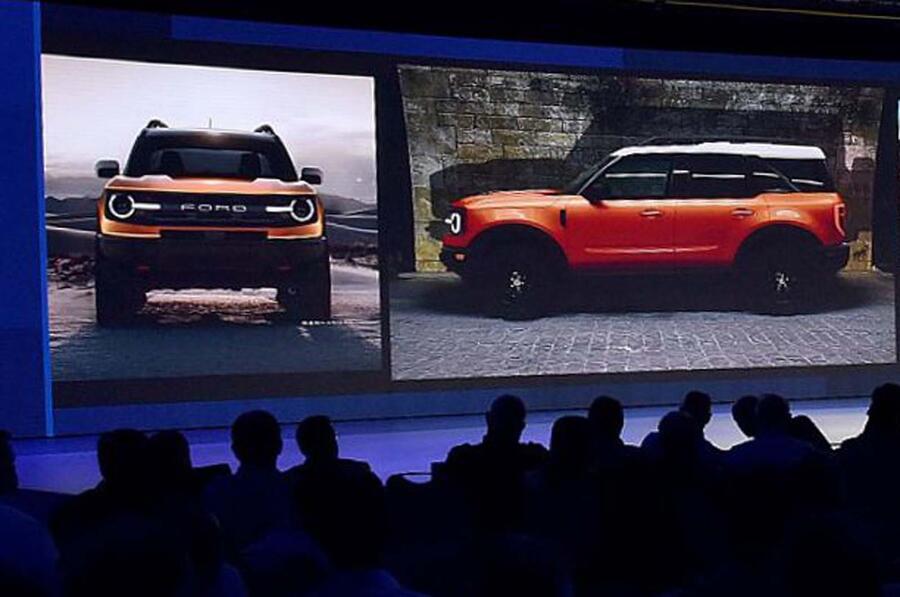 Details are scarce, with no word on which components, if any, the two new models will share. It can be expected that the full-size Bronco will be more upmarket, rivalling cars such as the Audi Q7 and upcoming Mercedes-Benz GLS.
The two new machines were confirmed as part of a major model SUV offensive for the North American market that will involve Ford reallocating $7 billion (£5bn) of capital from cars to SUVs. The company's global markets president, Jim Farley, said: "Ford helped start the off-road phenomenon and has majored in off-road capability for decades, from the Bronco to the Raptor. Now, we're ready to reclaim our rightful place as the off-road vehicle leader."
Confirmed at the Detroit motor show in 2017, the future Bronco is described as a "no-compromise mid-size 4x4", suggesting it'll be more rugged than Ford's current SUV offerings.
Ford has previously referred to the upcoming Bronco as a global model, implying that at least one of the two models could be available outside of the US. However, a Ford spokesperson has said there are currently no plans to bring the Bronco to Europe.