The Mercedes-Benz E-Class Coupé will be revealed at the Detroit motor show in January before going on sale in Spring 2017.
The 2017 Mercedes-Benz E-Class coupé has now been revealed
The svelte two-door coupé version of the E-Class Saloon is aimed squarely at the BMW 6 Series and Audi A5, and has hit the road in a final round of durability testing prior to a planned premiere at the Detroit motor show in early January 2017.
Set to reach UK showrooms next April with an initially limited line-up of petrol and diesel engines, the new E-Class Coupé is the first Mercedes-Benz model to reflect a more conservative design lineage being introduced by the German car maker's design boss, Gorden Wagener.
The fifth-generation E-Class Saloon was unveiled at the Detroit motor show in January. It adopts many of the features of the larger S-Class, including a dual-screen digital instrument cluster and multimedia display. The new E-Class Coupé largely shares its interior architecture and appointments with the E-Class Saloon and Estate, including its optional 12.3in digital instrument display and multi-function steering wheel featuring touch sensitive pads as part of the latest Comand APS NTG 5 infotainment system.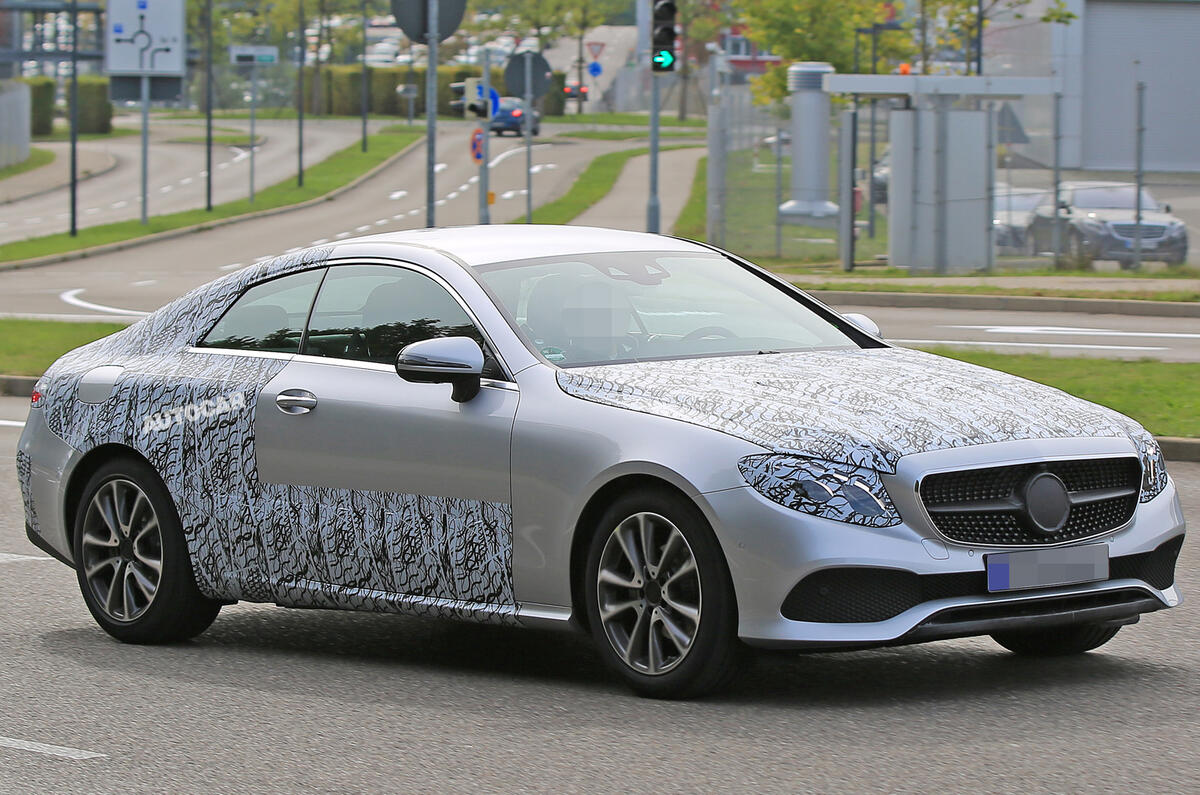 The Comand system's rotary controller will also go, as Mercedes replaces it with an enlarged version of the existing optional touchpad, allowing you to scroll through various navigation, audio and vehicle setting menus with a swipe of your finger.
While this early E-Class Coupé test mule is disguised, we can see the car gets a sloping roofline that tapers towards the rear and daytime running lights at the front. The two-door E-Class is expected to feature many of the same styling cues as the S-Class Coupé and recently launched C-Class Coupé. An extension of the so-called 'sensual purity' theme of recent Mercedes-Benz concept cars, it does away with the heavy sculpturing and taut surfacing of the previous E-Class E-Class Coupé for an altogether smoother look, featuring largely unadorned flanks and fuller forms.