We spent a morning riding in a pre-production prototype of the new Mercedes-Benz E-Class Coupé with Peter Kolb, the man who has overseen the extensive test and development operations for the latest German two-door, which is set to make its world debut at the Detroit motor show in early January.
Within a couple of miles of setting off along a closed road to our destination at an altitude of 2500 metres, it was obvious Mercedes-Benz has delivered a much more compelling and rounded car than its predecessor, which has been on sale in the UK since 2010.
Mercedes-Benz E-Class coupé - full technical specifications
The prototype we're riding in is the E400 Coupé. It runs the more moderately powered version of Mercedes' M276 petrol engine, a twin-turbocharged 3.0-litre V6 kicking out 328bhp at 5250rpm and 354lb ft of torque between 1200 and 4000rpm.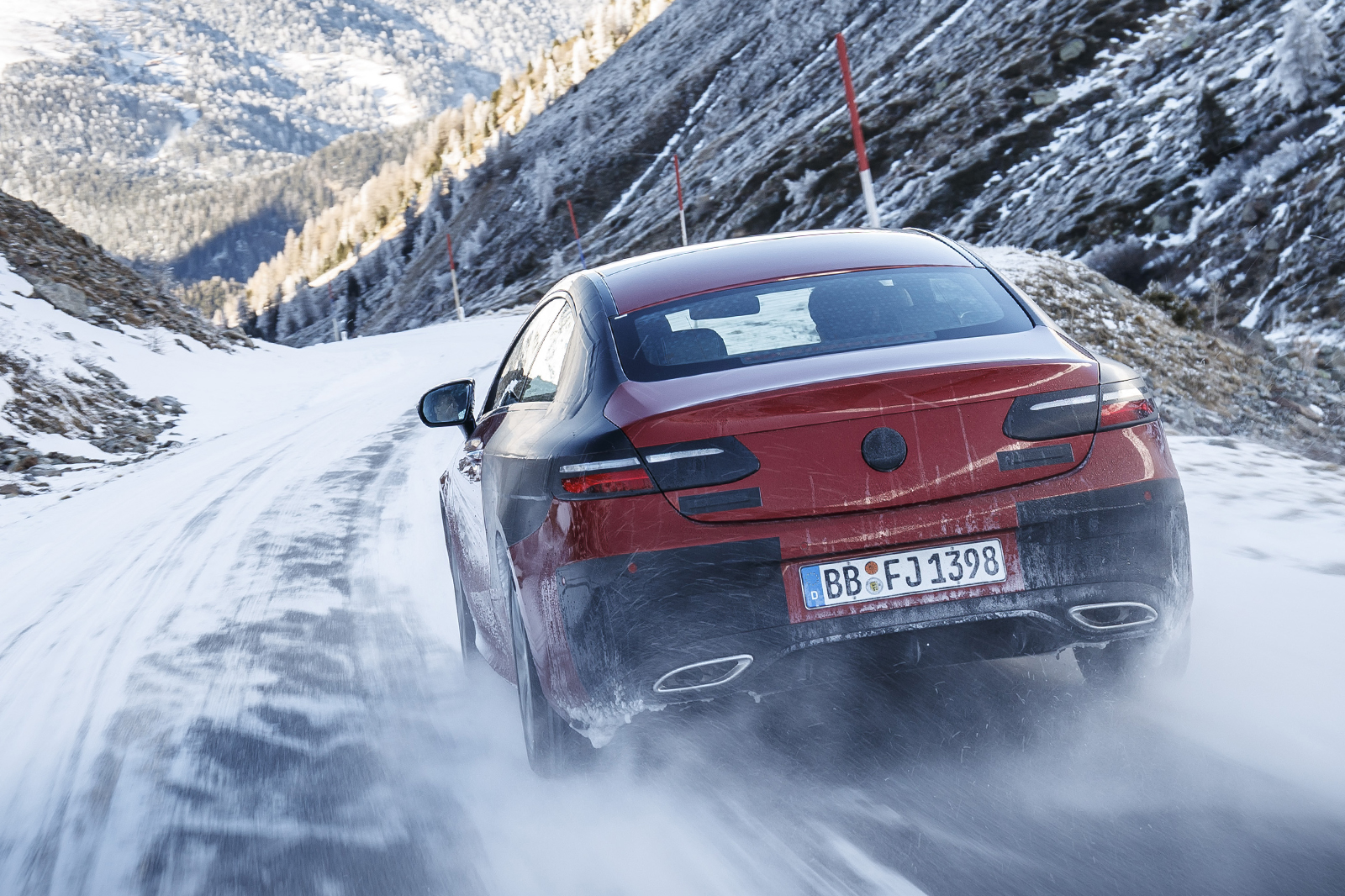 Straight away, it is clear the initial range-topper doesn't lack for straight-line performance, nor mechanical refinement in the most soothing of its four driving modes. Mated to Mercedes' smooth-shifting nine-speed automatic transmission and with the optional 4Matic four-wheel drive system providing a nominal 55% of drive to the rear wheels, the 60deg unit propels the E400 Coupé along in a wonderfully effortless manner and is whisper-quiet at anything but manic revs.
It is only when we approach a series of corners and Kolb switches from Comfort into Sport mode that Mercedes' efforts in imbuing the longitudinally mounted V6 engine with a hint of sportiness is exposed as a raspy crackle is unleashed through the exhaust on the overrun.
With a month to go before the new car makes its public premiere, Mercedes is holding back on official performance claims right now. However, Kolb says the E400 Coupé should be good for a 0-62mph time of about 5.0sec and a top speed limited to 155mph. That places it on the same performance plane as the old E500 Coupé, whose twin-turbocharged 4.7-litre V8 kicks out a considerably stronger 402bhp and 442lb ft of torque.
Kolb also reveals that the entry-level E200 Coupé will feature a six-speed manual gearbox, while all other models will be fitted with the nine-speed auto.
Improved handling and ride
Kolb says that along with a clear focus on performance and economy, the prime objective during the three-year development of the new E-Class Coupé was enhancing its handling and refining its ride in a bid to make it more attractive to a wider group of customers. "It started during the initial digital prototyping stage and has played a central role right the way throughout its development," he says.