Eagle-eyed Mini enthusiast Neil Burgess recently noted that the Mini Vision Next 100 concept, which was unveiled to hint at the company's future direction, bears a passing resemblance to a vehicle from its recent past: the ACV30 concept car.
Anniversary Concept Vehicle 30 was sprung on an unsuspecting world to mark the 30th anniversary of Mini's victory on the Monte Carlo Rally, with Rover using the 1997 running of the classic event to reveal the car.
The look of the ACV30, which was badged as a Mini Cooper S, came from one of the abandoned styling proposals for the new Mini, which was then still four years from launch.
The ACV30 showed that the hallmark design elements of the classic Mini, such as the hexagonal radiator grille and large circular headlights, could be carried over into a 21st-century concept. However, the bulbous wheel arches and growth in size alienated as many Mini enthusiasts as they excited. Nevertheless, some elements of the design – the work of Adrian van Hooydonk and Frank Stephenson – did make their way on to the first BMW Mini.
Most notably, the ACV30 gave away the new hatchback boot format for the forthcoming Mini and featured a floating roof design and dramatic wraparound glazing.
"The ACV30 is designed to encapsulate the spirit of Mini past in a contemporary style, with detailing representative of future design thinking," said Rover at the time.
It also had some distinctive features, such as competition seats and harnesses, rollcage struts and a large, round central instrumentation screen.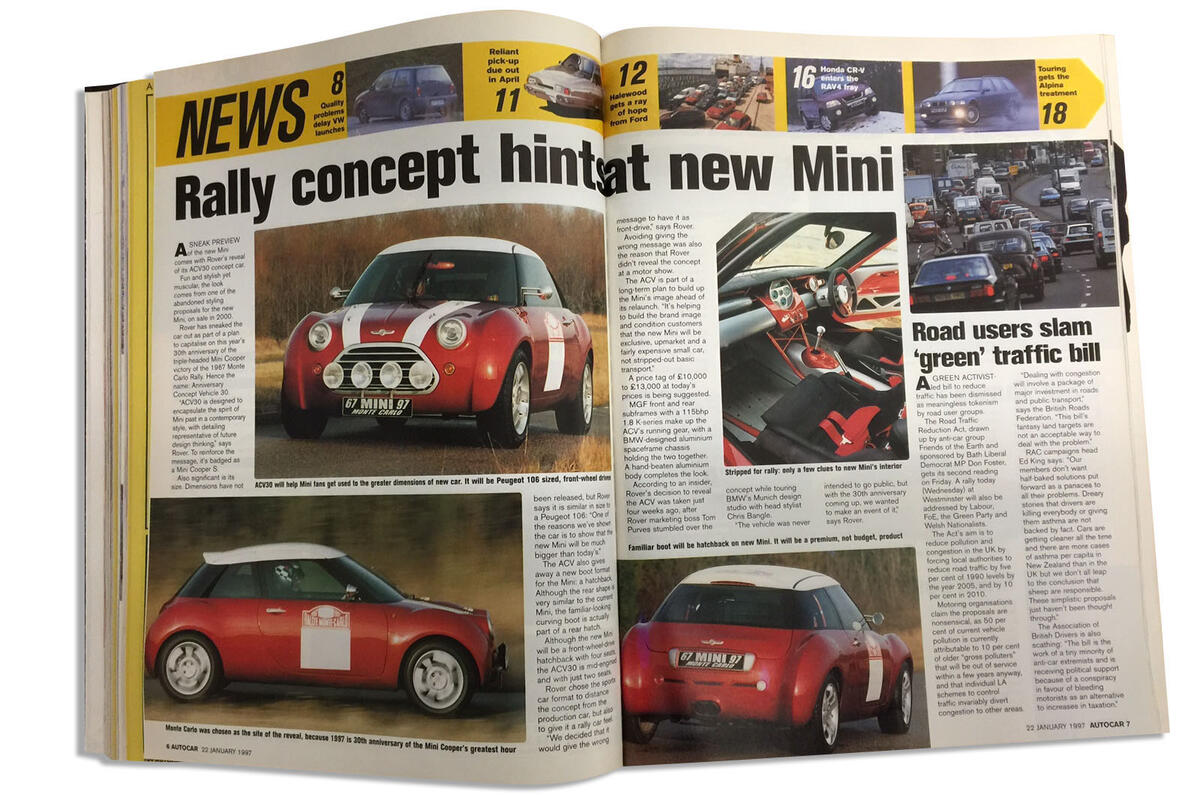 It was already known that the next Mini would be a larger front-drive car with four seats, but the ACV30 used front and rear subframes from the MG F, with a mid-mounted 115bhp 1.8 K-series engine and a BMW-designed aluminium spaceframe chassis holding the two together. A hand-beaten, lightweight aluminium body and two-seat layout completed the motorsport feel, complete with the red-with-white-roof livery that adorned the Monte Carlo winner in 1967.