Hyundai is launching a new online buying website that will allow buyers to complete the entire purchase of a new car from the comfort of their home or office.
Its Click To Buy website can give potential buyers a trade-in price for a part-exchange car, let them choose and spec up a new vehicle, pay a deposit and sort out finance and arrange when and where the new car will be delivered.
Even though buyers won't have to haggle with showroom sales staff, they'll still get a discount on their new car because Hyundai UK and its franchised dealers have agreed to cut their margins on selected models offered on the site.
For example, the manufacturer's recommended retail price for a Hyundai i10 1.0 SE is £10,000, its price on Click To Buy is fixed at £8995, so buyers will automatically get a £1000 discount.
Cash buyers can complete the entire transaction online, only those taking out finance will need to visit a dealership to complete the paperwork.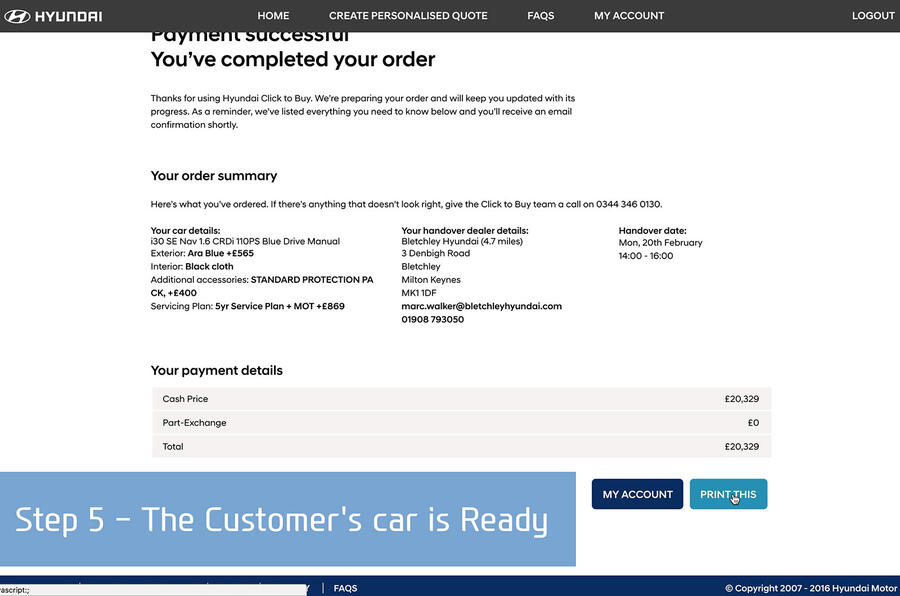 Initially, the models available on Click To Buy are the i10, Hyundai i20, Hyundai i30, Hyundai Tucson and Santa Fe; others will be added later. Stock of the cars offered on Click To Buy has been bolstered so that cars can be delivered as little as a week after the order is placed.
Tony Whitehorn, president and CEO of Hyundai UK, said: "We've spent many years listening to customers and Click To Buy is the result. It's a site that makes the process of buying a new car easier, simpler and clearer than ever, doing away with haggling through fixed pricing."
The new online service is the next step for Hyundai in making the new car buying process transparent and less stressful for those who don't want to haggle with a salesperson.