The launch in September of Audi's first pure-electric car, the E-tron, and the increased amount of digital content in such models mean the German firm is completely reinventing the way it approaches quality procedures at its factories.
"Audi is going through its biggest change ever as it transitions to become a digital company," said head of quality assurance Werner Zimmermann, "and quality is one of our core competences, with our customers having expectations for the function, comfort, value and reliability of our cars."
All of the quality departments, covering 500 vehicle functions and their 2800 staff, mostly based at Audi's Ingolstadt HQ in Germany, are adopting new procedures to deal with the increased electrical complexity of the Audi of the future.
Audi RS5 Sportback revealed with 444bhp turbocharged V6
For example, a battery-electric Audi will be equipped with more than 100 computer control nodes and generate 100,000 signals in its electrical wiring, compared with the 12,000 signals that a typical combustion-engined car generates today.
Audi's quality teams get most directly involved in new car launches in the final six to 10 months of the typical four-year product cycle, when they can best influence the quality of the finished model.
Mind the gap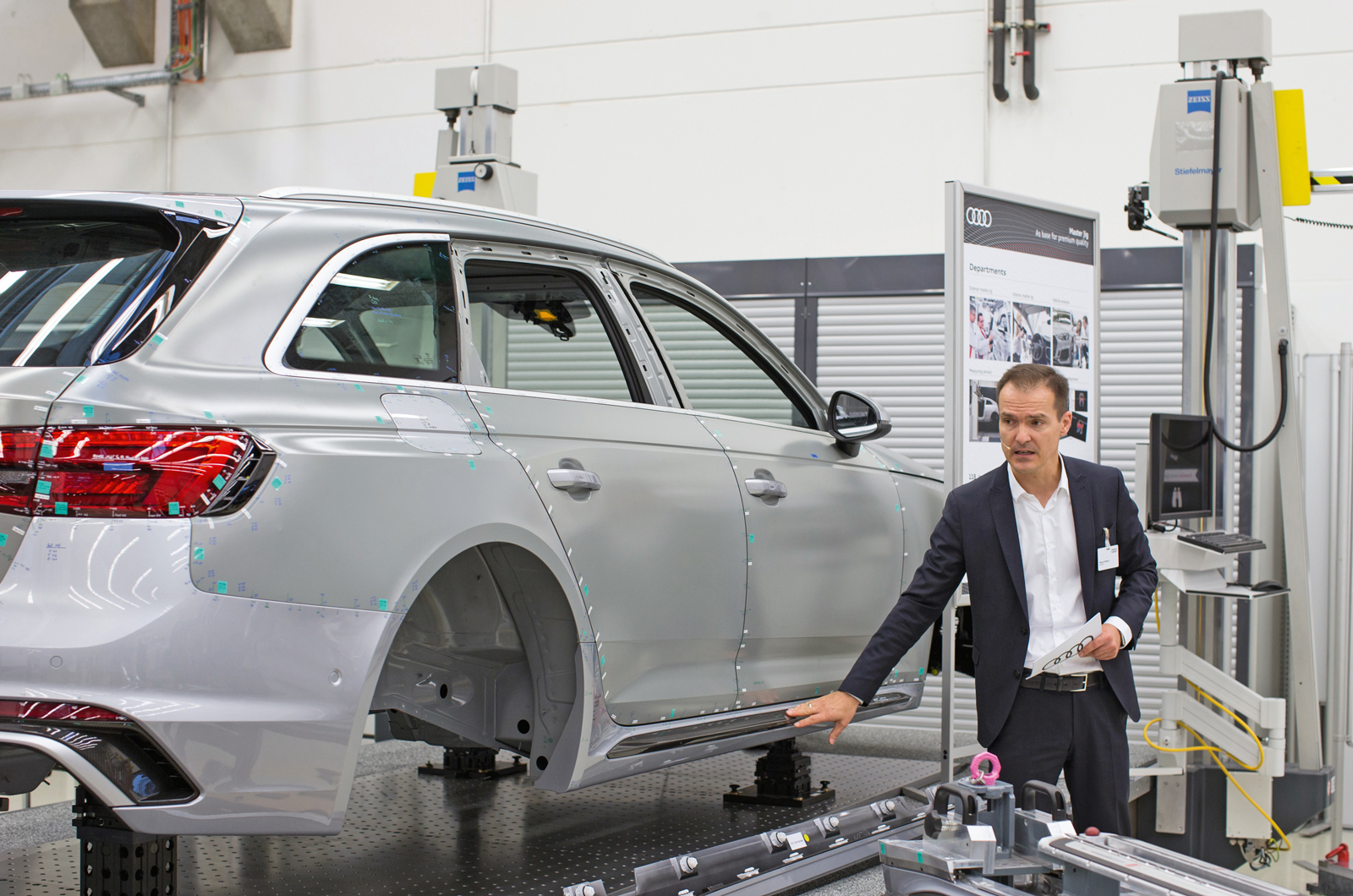 An Audi's tight panel gaps don't happen by luck. Metrology is the science of measurement and Audi is using digital advances to improve the correlation between design and manufacture to improve the 0.2mm panel-gap tolerance.
Currently, a master jig is created 10 months ahead of Job One (the start of production), when production tooling becomes available to fine-tune the body to a perfect panel fit. Audi uses the same 0.2mm tolerance in its interiors, which also have their own master jig. A new bit of kit in the department is an optical jig, built around two 16MPM digital cameras mounted on robotic arms, which can build up a 3D picture of a complete production body in four hours – a 100GB file. The 'tactile' scanners of old took 48 hours to do a similar but less thorough job.
This scan can be compared with the original computer-aided designs and the high and low spots where the production tools are lacking accuracy can then be projected back onto a body to show exactly where the press tooling should be adjusted.
The next step is to completely digitise the master jig for every Audi car body and further increase production quality and reduce tolerances by half to just 0.1mm.
A faster way to troubleshoot test cars