Before the arrival of our Ford Edge, I managed to get some idea of what living with the big SUV would be like by spending some time in the vehicle whose blueprint in part paved the way for its development: the second-generation Ford S-Max.
Both use the same bi-turbo 2.0 TDCi engine and Powershift gearbox, so I was able to find out how the drivetrain would perform with a car weighing just over 1700kg before trying it in a near two-tonne car.
The engine and gearbox proved to be smooth and refined in the S-Max, with the Powershift'box happily shifting between ratios and keeping the revs down. There was also enough low-down torque to get the MPV moving swiftly no matter what the situation, and this performance seems to have transferred seamlessly across to the heavier Edge.
There are also inevitable similarities between the dashboards and controls of the MPV and SUV, but that has at least been handy for finding my way around the Sync infotainment system the Edge comes with.It's a decent set-up but takes some getting used to if you want to be able to use it without taking your eyes off the road for too long.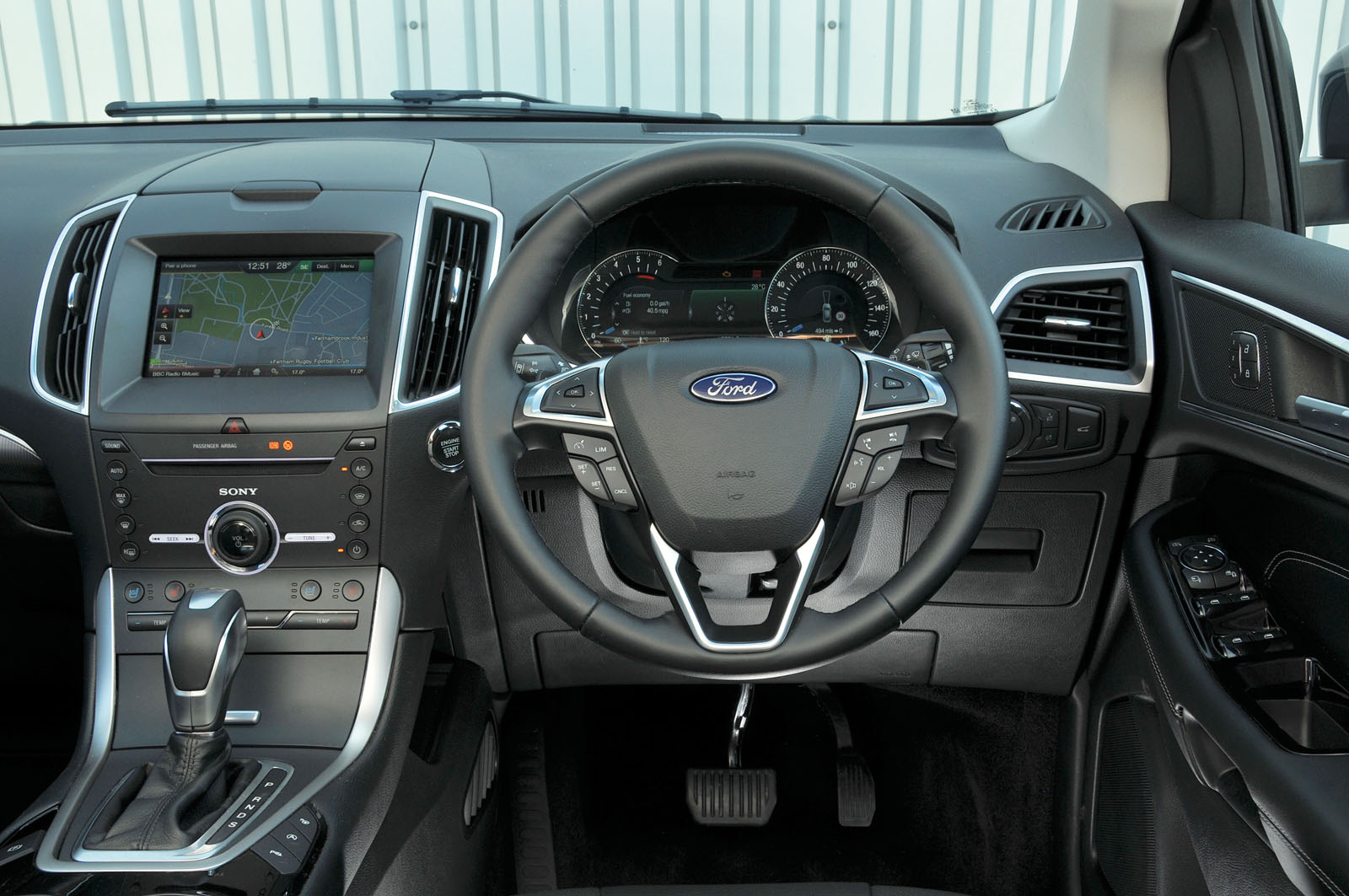 The other area of interest was the amount of room inside the Edge relative to the S-Max, because both cars use the same platform and both major on delivering a family-size amount of interior space.
First impression with the Edge was that none of the S-Max's roominess had been compromised, and there was a sense, apart from the higher ride height, that I could have been clambering into the big MPV.
The biggest disappointment is that Ford felt hasn't felt inclined to include a third row of seats in the Edge, unlike the seven-seat S-Max. However, sitting on the Edge's roomy back seat makes it clear that Ford's priority here has been to offer enhanced rear passenger space.
Maybe it's a little harsh to demand a third row, especially when the Volkswagen Touareg omits it and the Range Rover Sport's two rear seats are not only optional but also a tight squeeze for adults.