An icon in its own lifetime, the original Land Rover and later Land Rover Defender was always going to be a hard act to follow. Many concepts have come out over the years to suggest what a future Defender might look like, but there have also been a few lesser-known projects within the company that did produce actual running prototypes. One of these experimental vehicles currently resides in the British Motor Museum, less than a mile from where it was born at what is now Jaguar Land Rover's Gaydon engineering site.
Finished in 1997, this little red pick-up called Lightweight Concept Vehicle, or LCV2/3, was constructed out of unused parts from an earlier LCV2 prototype. It was finished in time for a demonstration drive with Dr Wolfgang Reitzle, who at the time was boss of product development at BMW, the company that kept money in the meter of Rover and Land Rover during the mid to late 1990s.
But the purpose of this quirky vehicle was far greater than just to impress the top brass. It did, in fact, have many far-reaching benefits, many of which can be seen to this day, as Peter Wilson – who joined the team as project manager for Experimental Vehicles in 1995 – explains: "We looked at forward production techniques five to 10 years down the line, to evaluate how they could be fed onto the production line. We were also demonstrating the ways and means of reducing weight in production cars."
Here's what we got: 2020 Land Rover Defender officially revealed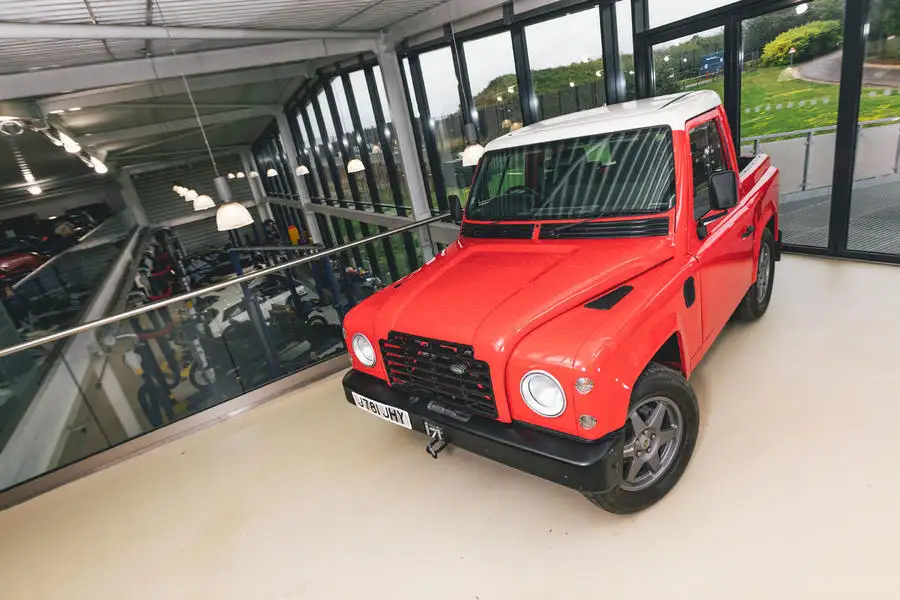 Initially, the first LCV car – LCV1 – was, according to Peter, "an attempt to knock weight out of a Discovery just by substituting aluminium for steel. The problem was you needed to use heavier section aluminium to maintain the strength of the steel one, so it was a bit of a blind alley."
LCV2 was a much more successful venture that ditched the separate chassis for a spaceframe made of extruded aluminium to save around 400kg compared with the standard vehicle. In the finest traditions of prototype disguises, LCV2 looks just like an ordinary Defender. Only the most determined anorak would spot the slightly lower roofline.