New Zealand's summer is so wet that 1000 tourists have been stranded by road blockages, rain is falling at up to 40mm per hour, the Met Office says "small tornadoes are possible" and, earlier today, while driving along a road in a Jeep Gladiator, I was overtaken by a speed boat in the other lane.
Now it's, well, I don't know what time exactly but gone midnight in a basement bar in Queenstown, on New Zealand's South Island. It's loud and dark but Jeep's global president and the company's star exterior designer are still here. Both have just spent two days getting soaked to the skin and are ready for several more. Pick a car company boss and a chief designer: can you picture them in a pub talking about making a pure-electric adventure truck, having already spent half a week up to their ankles in mud?
Jeep talks about 'authenticity' in the same way everybody who wants to make serious 4x4s talks about authenticity. The difference is that it's not just a few engineers and some in-house or drafted-in experts who live it.
The Gladiator's designer is Taylor Langhals; bearded, relaxed, 30, the fourth generation of his family to work at Jeep. He's wanted this job since he was a kid. And the Gladiator – Jeep's first pick-up for 27 years – is special to him.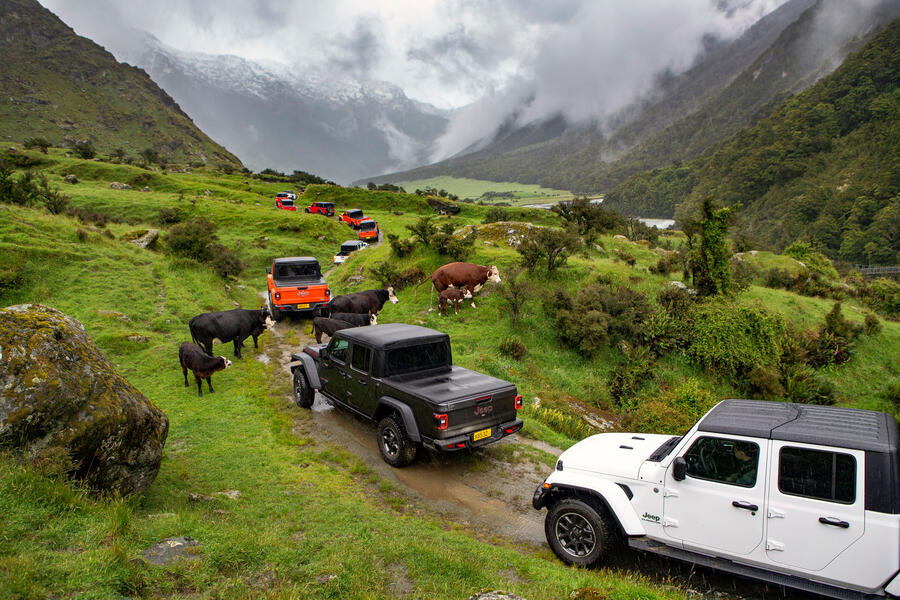 That there are faux imprints of a dirt bike tyre moulded into the head of the load bay and that the Jeep factory's zipcode (in Toledo, Ohio) is stamped just inside the tailgate might seem twee. But don't be in doubt about how senior Jeep people use these vehicles. The tailgate opening hatch measures 1270mm across because that will accommodate the widest snowmobile you can buy. "And that's the one I have," says Langhals.
Snowmobiles, dirt bikes, mountain bikes, fishing gear, camping gear, outdoor stuff, pulling boats: that's the point of the Gladiator. Given how frequently Jeeps are used, abused and modified in the US ("let's be honest: Wranglers stay stock for about five minutes"), it's about time Jeep had a pick-up again.