Audi has released the Launch Edition version of its first production electric car, the E-tron SUV.
The Mercedes-Benz EQC rival is on sale now from £71,490, while the Launch Edition raises that price to £82,240 and will be available to order from early next year.
The most innovative feature on the Launch Edition is the world-first use of two high-definition cameras in place of the traditional door mirrors offered in lesser versions. These project the view behind onto two OLED screens mounted in the doors and reduce the width of the car by 15cm. They also feature heating elements and can detect dirt.
Further kit enhancements include Matrix LED headlights, platinum-look 21in Audi Sport alloy wheels and black exterior detailing. Inside, there's the addition of a panoramic roof, brushed aluminium trim and a leather upholstery upgrade, while Virtual Cockpit, adaptive cruise assist and a 360deg camera also feature.
The E-tron gets 249 miles of range on the WLTP official test cycle – identical to the EQC but behind the I-Pace, which manages 292 miles.
Like all electric cars, it's eligible for a £3500 grant from the Government. Audi is now taking orders, with customers who pay a £1000 deposit securing 'priority access'. The EQC is tipped to cost from £67,500.
Audi powertrain director Siegfried Pint has said that a cheaper version of the E-tron with a smaller battery and therefore less range will follow in the next 12 months.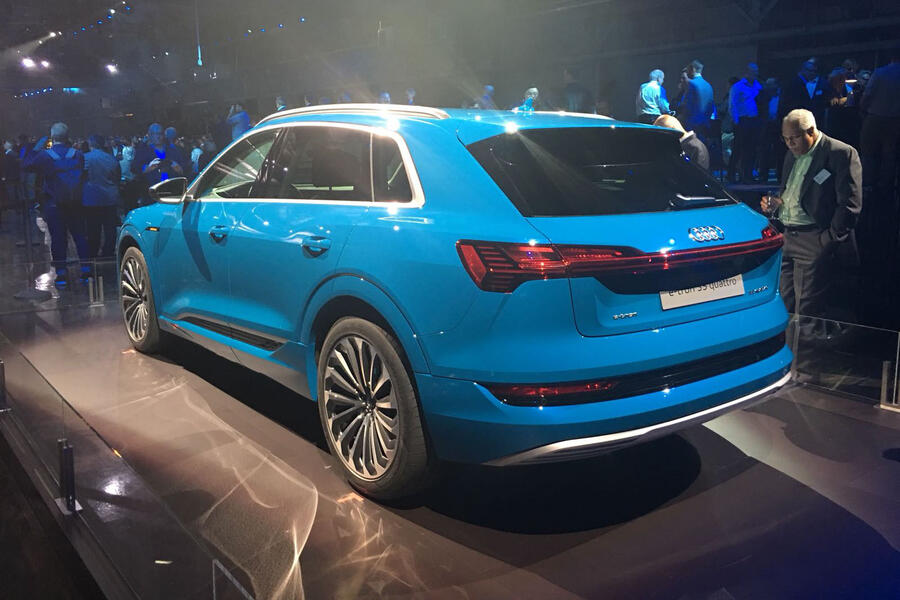 Sitting between the Audi Q5 and Audi Q7 in size, the E-tron features a handful of design elements that are intended to make it stand out from other Audi models.
It keeps the single-frame grille but uses a lighter colour for the louvres. "We didn't want to lose the single frame; it contributed to making us the premium brand that we are today," said exterior designer Stephan Fahr-Becker. "We selected a lighter colour. If a car is approaching from 50 or 100 metres, the single frame is recognisable as an Audi but different from, say, a Audi Q8."
The E-tron also gets a name badge on its front, like Audi's RS performance models. "We were bold enough to put the name on the front of the car; we want to say the E-tron is the first of its kind," said Fahr-Becker.