Plenty of electric cars have impressive claimed range figures but managing to achieve them is another story. With the increasing number of EVs to choose from, buyers are hunting for the most energy-efficient electric cars to really make the most of their batteries between charges.
Electric car efficiency is measured by calculating its miles per kilowatt hour used, shortened to mpkWh. For example, a Volkswagen ID 3 with a 77kWh battery would require an efficiency of 4.5mpkWh to achieve its officially rated 347 miles of range.
A vehicle's efficiency is affected in several different ways, with aspects such as weight proving to be a key factor in positively or negatively impacting range.
The Audi Q8 E-tron, for example, is powered by a 106kWh battery, but weighs a staggering 2585kg, meaning it can deliver only around 2.9mpkWh.
Larger, SUV-style electric cars are also usually impacted more by drag, which reduces their range compared with sleeker, more aerodynamic sports cars and hatchbacks.
The range and efficiency of electric cars are also heavily influenced by the weather conditions and outside temperatures. Warmer temperatures mean a battery's chemical reactions can occur faster and offer higher range, whereas colder weather requires more energy, reducing range.
Other aspects dictated by the driver, such as how fast you drive and the use of climate control or air conditioning, also affect range. A car will often be able to travel further on a single charge in the city compared with on the motorway, as more power is required to sustain higher speeds and handle the increase in drag.
Now you know how an electric car's efficiency is impacted - but just how efficient are electric cars in the real world, and which are the most efficient electric cars on sale today? Our list below details the best EVs to squeeze the most mileage out of your battery.
Most efficient electric cars on sale
Peugeot e-308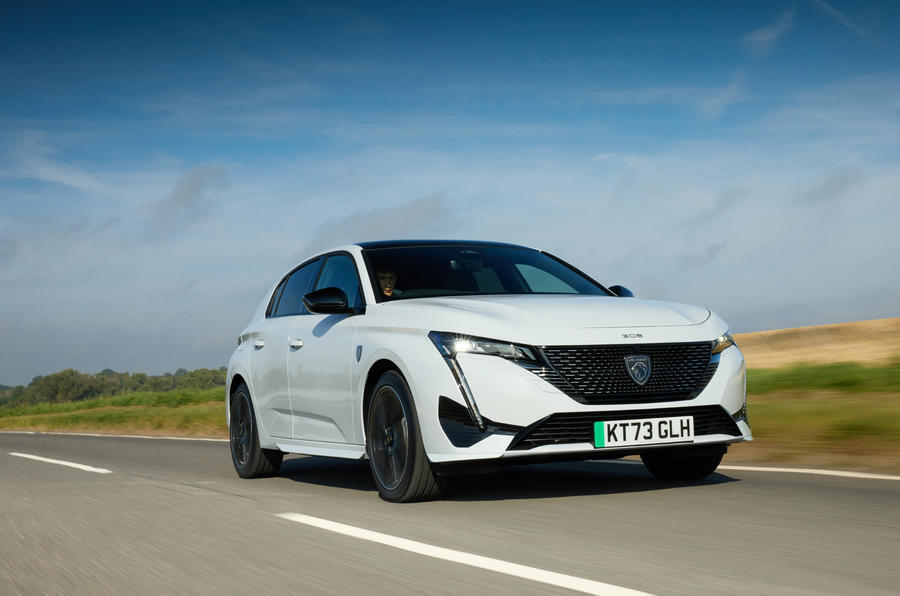 Claimed efficiency 4.9mpkWh
Autocar's test efficiency tbc
The Peugeot e-308 is due in October 2023 and Peugeot has made some impressive claims about its potential range and efficiency figures, labelling it "a benchmark among 100% electric vehicles in the C-segment".
Peugeot says that with the e-308's EV-specific redesign, low-friction tyres and aerodynamic wheel options applied, the new e-308 will be capable of producing 4.8mpkWh in hatchback guise.
Of course, real-world tests will prove whether it can achieve that ambitious figure, and if it can, it will be the most efficient electric car on sale.