Few genres of car instil such a sense of childish glee as the supercar, the mere mention of which is as likely to get car mad school kids squealing with excitement as fully grown adults trembling at the knees. The definition of this breed has become a little fluid over the last few years, but essentially these machines aim to offer exotic looks, kidney crushing performance and physics-teasing handling at a price that shouldn't mean that only billionaires need apply.
Once the sort of relative rarity that would mean such a car would likely never get noted in a keen-eyed fan's I-Spy Book, supercars have become almost ubiquitous as both long-time practitioners and youthful start-ups aim to get in on the high profit action. That means the route to outright performance has changed too, with everything from pure ICE machines to plug-in hybrids. There's also a still surprisingly wide array of engine layouts, as V6s jostle with V10s and V8s.
Even so, to take top honours in this class a contender will have to demonstrate a remarkable breadth of ability, because unlike the even more focussed hypercars, these models have to be able to cope with day-to-day duties, with owners often keen to use their purchases from more than just high days and holidays.
Read on as we reveal the supercars that cause us to issue the most superlatives.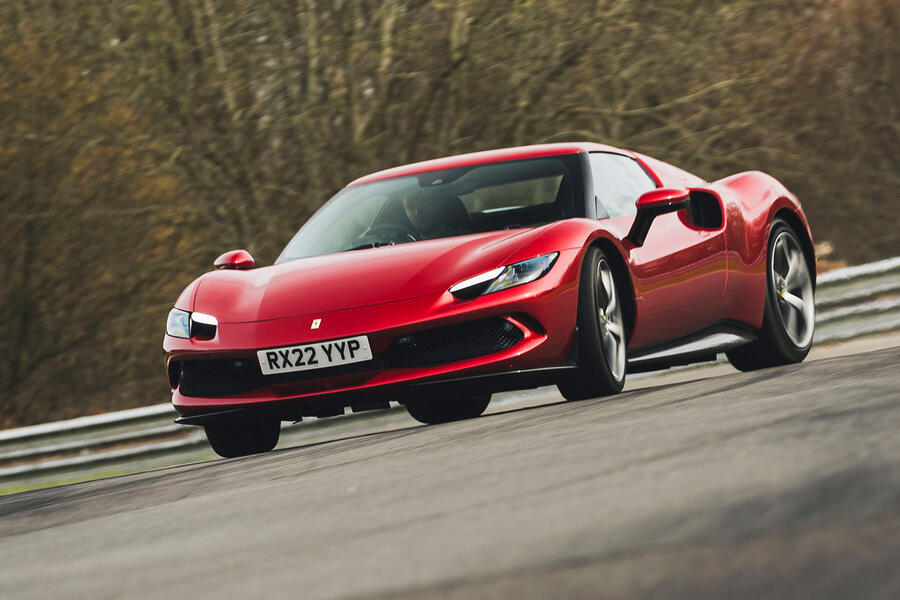 There were a few Ferrari fans that fretted over the demise of the old F8 Tributo, the last pure ICE mid-engined machine to bear the prancing horse badge. Surely it's a replacement, a plug-in hybrid off all things, would be a soulless shadow of its predecessor? Erm no, not by a long shot.
While the ferociously quick but slightly spiky SF90 Stradale represented a toe-in-the-water exercise for the firm's plug-in powertrains, the smaller and less costly (relatively speaking, because it's still a £250,000 car) 296 GTB is sensationally well executed and goes straight to the top of the supercar charts. It's so good that you wonder why you worried the folks at Maranello might have got it wrong.
At the heart of the car is a new twin-turbocharged 3.0-litre V6 engine that's mated to a 164bhp electric motor to deliver a staggering combined total of 819bhp - in what's essentially an 'mid-ranking' Ferrari. As you would expect, performance is relentlessly, savagely sensational, plus it will also crack a claimed 15.5 miles of electric-only range. More importantly, the ICE feels and sounds as special as any that has had crackle red painted applied to its cam covers, responding with zeal to every input and emitting a howl that has you convinced that it packs twice as many cylinders.
What's more remarkable is that Ferrari has managed to make a car with this much power and performance potential feel so approachable and engaging. The trademark wristily quick steering is still perhaps a little too over-eager to help you change direction, but the car's mid-corner balance, control and poise beggars belief. This is a machine that's as happy to play a neat-and-tidy game of hunt-the-apex as it is to hang it all out. It's packed with driver assistance systems and various modes, but the 296 GTB always feels natural and on your side.