If you've been paying attention, you'll have seen that I'm now the owner of my first car; a Volkswagen Lupo. I bought it about six weeks ago for £300, with a view to making a few tweaks, and showing it off at next year's Wörthersee event (which celebrates all things Volkswagen Group) in Germany.
Well, the honeymoon period with the Volkswagen Lupo is over. Not with the clichéd bump and resentment that follows, but work has begun on more ambitious projects; of course with help from a far more mechanically experienced partner.
Project 1: The touchscreen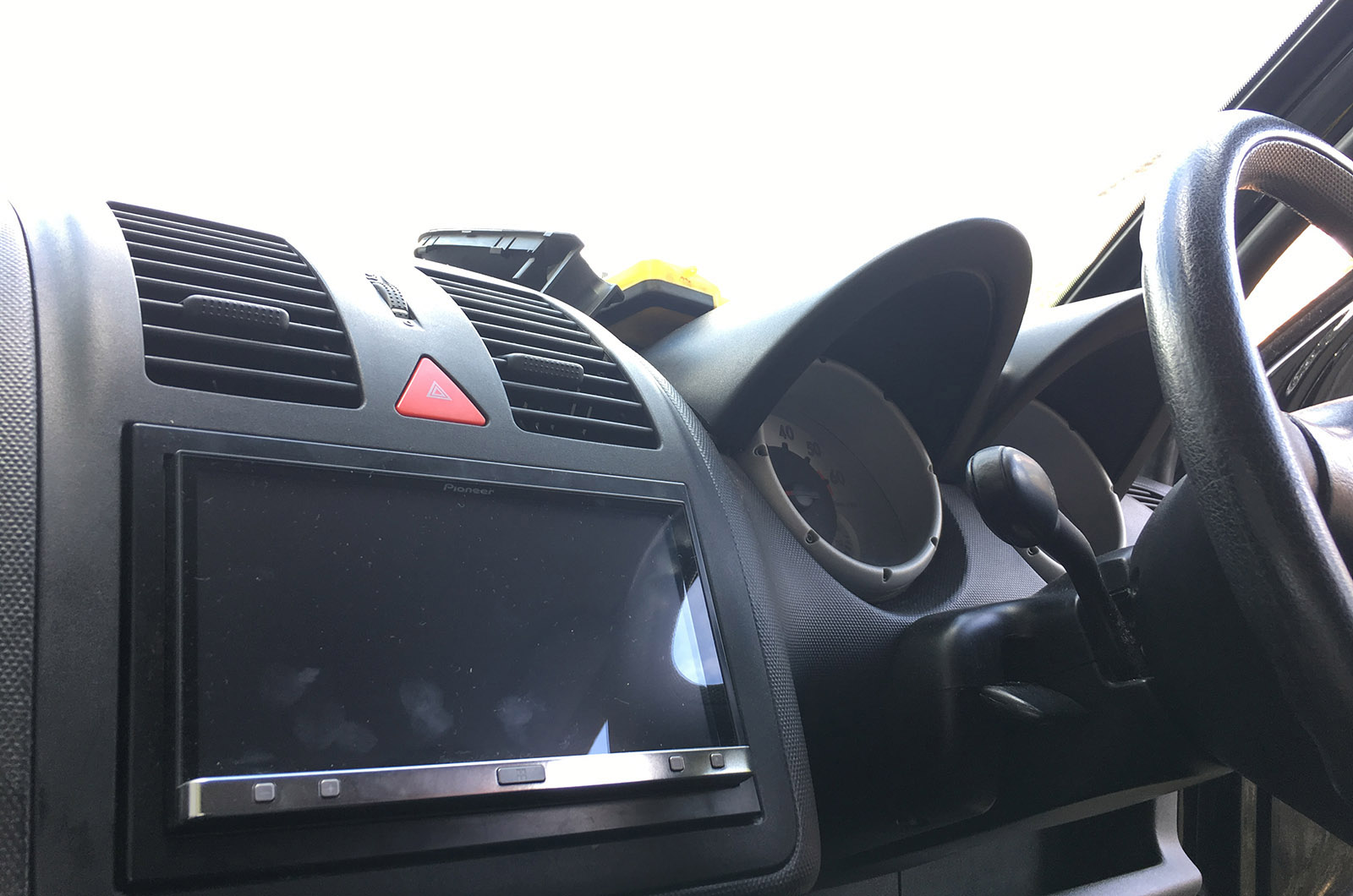 First was the installation of a modern, double-din head unit. No tape deck and CD changer here; we've gone for a full touchscreen with sat-nav integrated. 
Unfortunately, I'm picky and encountered a problem: my Lupo, an early, pre-update version, had the cupholder and coin tray module integrated into the lower half of the double-din radio space. 
That won't do; I want to keep my cupholders, so I've upgraded to the later dashboard, which involved a new middle dash and handbrake surround - big pieces that, fortunately, didn't cost much from a salvage yard. 
After trimming away some of the lower dashboard to allow the backs of the cupholder modules to fit, the new dash was screwed into place, looking factory-fit. 
Project 2: The horn
Next was an arguably simpler task: replacing the Lupo's rather wimpy single-tone factory horn. 
Salvage yards are tricky places; there's no guarantee that any electrical parts you buy will work, and the horn upgrade took three separate trips to complete and parts from three different cars, using trial and error to replace a broken low-tone horn. 
But now I have a complete, loud horn, with a four separate tones. The sound they make together is one of quite magnificent charisma, volume and obnoxiousness. Woe betide the next person to cut me up. 
The next projects: Suspension, wheels and interior
So, I'm semi-prepared for the larger project of replacing the suspension and sorting that rolly-poly ride and gawky height, without turning my lollopy Lupo into a bone-shaker.
After some thorough research, I've discovered that German suspension company KW's coilovers are renowned as capable of exactly that, but at a cost. 
Fitting those will be next, followed by some arch-filling new wheels. I know exactly the set to do it, but I'll need hub adapters to do it; in true Wörthersee form, I'm borrowing wheels from another marque. They'll be a doddle to fit but have to be done right, lest vibration occurs. 
Following these, it'll be time to fit some more supportive seats. The rest of my plans depend on the budget used by these bits, as well as the timeframe. With six weeks of my 52-week timeframe used, it's definitely a race against the clock, considering the amount of work to be done. Luckily, the forums are always there to make sure I'm not making any grave errors. 
It's surprising how big an online community - and a friendly, helpful community at that - surrounds the Lupo. These forums might be a priceless resource in the not too distant future and are a must-visit for anyone going into a similar project. 
Read more: 
Can you buy a good car for £300?