It's quite bizarre to hear that that the LEVC TX, aka the new London taxi, is on test as we speak in the wilds of Arizona and the Arctic. How confusing must it be for sun-baked cowboys and frozen Laplanders when a common-or-garden black cab turns up on their patch out of the blue?
An equally bizarre experience was on offer at this year's Goodwood Festival of Speed, when I became one of the first people ever to travel in the back of the new London cab – under most un-cab-like conditions.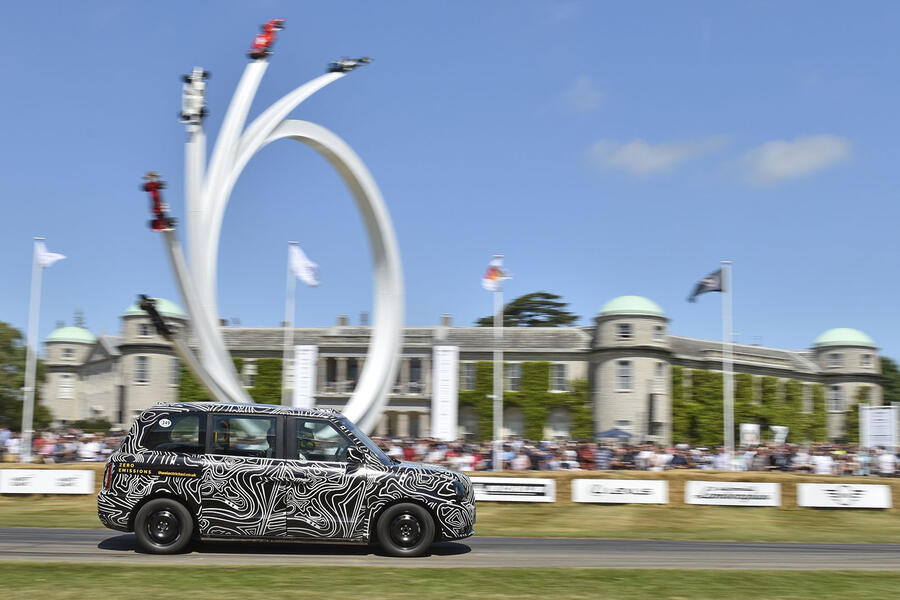 New LEVC TX London taxi launched
In their wisdom, Geely and Volvo, who own the former LTI company making new-design hybrid cabs in a new factory outside Coventry, decided to enter a disguised prototype in the First Sight field at Goodwood, and to invite your humble servant to travel in the spacious, comfortable and airy passenger compartment.
My driver was Katie Milner, promising Ginetta racer and the youngest driver in the entire event. She's intent on becoming a successful race professional – Le Mans participation is part of the dream – and has already beaten some good guys enough times in the past season to make it a believable idea.
I wasn't sure what to expect, but the experience was entirely positive. The cab is an all-aluminium range extender design, reminiscent of black cabs past but with a 70-80 mile battery range (that can be replenished in 20 minutes on a fast charger) and with a 1.3-litre three-cylinder charging engine in the nose in case fast chargers aren't handy. At Goodwood, over four days, the engine never needed to run.