The London Taxi Company (LTC) will launch its new range-extender electric cab in the final quarter of this year, ahead of Transport For London (TFL) legislation that all new cabs must be 'zero-emission capable' range of at least 30 miles.
New LEVC TX London taxi revealed with zero-emissions capability
The company has released images of the model undergoing hot weather testing in the Arizona desert, which, LTC claims, has tested the strain on the batteries caused by the hot conditions. Journeys of around 300 miles - three times the average daily mileage of a London cab - were completed.
TFL will introduce the 'zero-emission capable' legislation on 1 January 2018. Production of the new electric taxi will begin once work has finished on LTC's new purpose-built plant in Coventry later this year. LTC is due to open its new facility on 22 March following a £300 million investment by parent company Geely.
LTC is keeping quiet about the finer details of the EV taxi, saying only that the range "exceeds requirements comfortably". A final figure will be determined when testing concludes.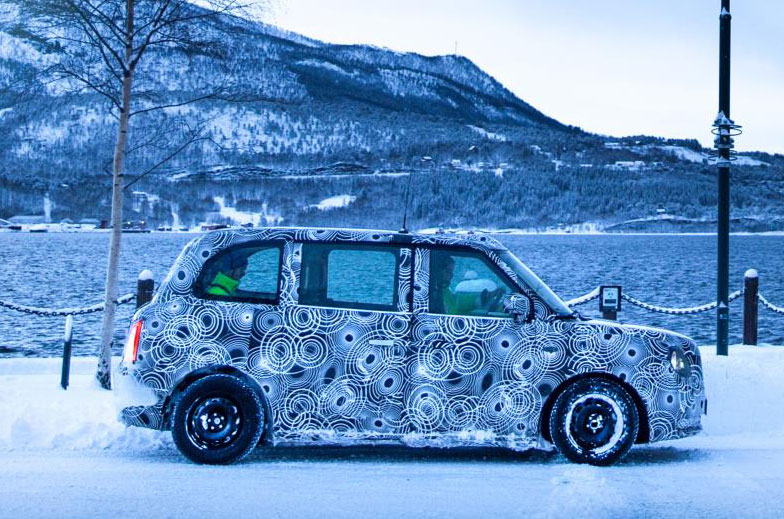 LTC CEO Peter Johansen said last year that one fill-up per day would be needed for the range-extending petrol generator. "A taxi driver will do 150-200 miles in a day, so the idea is the driver will top-up once during the day and travel the whole day on electric power."
Expensive electric car charging to be clamped down in 2017
Johansen also clarified the necessity for a range-extender rather than a traditional battery EV, citing recharging times and the lack of a fast-charge infrastructure as contributory factors for the traditional battery EV's incompatibility with taxi use. He also revealed that since Geely, which also owns Volvo, acquired the London Taxi Company in 2013, Geely chairman Li Shufu's aim has been to build an electrified taxi.