The Ferrari Monza SP2 will not be built in large numbers, nor is an opportunity to ride in it likely to present itself again, so the company is keen to show it off as much as possible over the Goodwood Festival of Speed weekend.
The supercar paddock is, as usual, teeming with festival-goers, but most are huddled around the Ferrari stand. Maranello's pulled out all the stops for this year's event, with the Monza SP2 just one of a number of ultra-rare (and, by all accounts, priceless) creations on display. The F12tdf-based SP3JC's one-off blue-white paint scheme provides a nice contrast from its predominantly 'Rosso Corsa' surroundings, and the customer-commissioned P80/C track car is on-hand to frighten the life out of all those fortunate enough to ride in it and bewilder spectators in equal measure.
The SP2, by contrast, is attractive for the exact opposite reasons. Less than 500 will be built, and the company is reticent to reveal a definitive price tag, but it doesn't scream out for you to look at it. Yes, if you know the 812 Superfast on which it is based, it's a remarkable design evolution, what with its redesigned front end, lack of windscreen and 1960s-style buttresses. But otherwise, it seems perfectly content to blend in.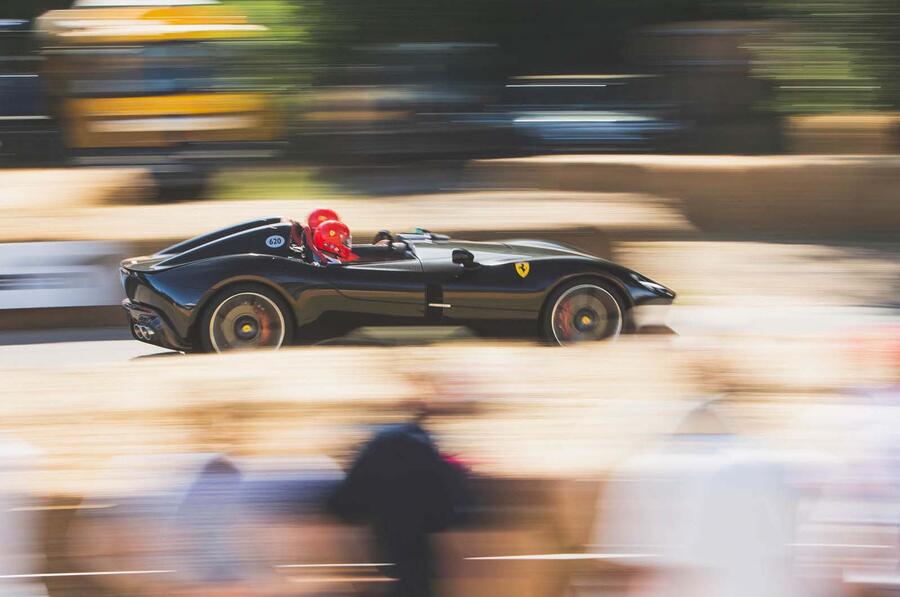 Elegant is an overused word, especially when it comes to Italian supercars, but that's exactly what the SP2 is. It's dark, brooding and, overall, classy. Despite the heavy style modifications, the interior is as comfortable, well-equipped and beautifully crafted as its 812 forebear (think Apple CarPlay and wonderfully welcome air-con), while new features like the clamshell bootlid and asymmetric bonnet are subtle enough that they don't detract from the car's purpose.