In the Volkswagen Group's hugely ambitious plans to roll out a veritable armada of electric vehicles on its MEB architecture, the Volkswagen ID Buggy might seem like an fun but frivolous distraction.
Creating a no-frills electric reinvention of the 1960s Beetle-based beach buggies is a good way to show that Volkswagen is in touch with its heritage. And it does that: the ID Buggy is retro yet forward-looking, and delightfully no-nonsense and simple: no fancy autonomous systems here.
But the eventual production version will undoubtedly be a niche product when compared to the ID hatch, the ID Crozz SUV – and not to mention forthcoming MEB-based EVs from sister brands Seat, Skoda et al. VW design chief Klaus Bischoff admits a production ID Buggy is only viable because it can benefit from the economies of scale of the rest of the ID range.
Still, I reckon the ID Buggy – or more precisely, what Volkswagen wants it to represent – could be an absolute game-changer. And that's because Volkswagen wants third party firms to create their own. It has already signed up one partner: German EV start-up E.Go.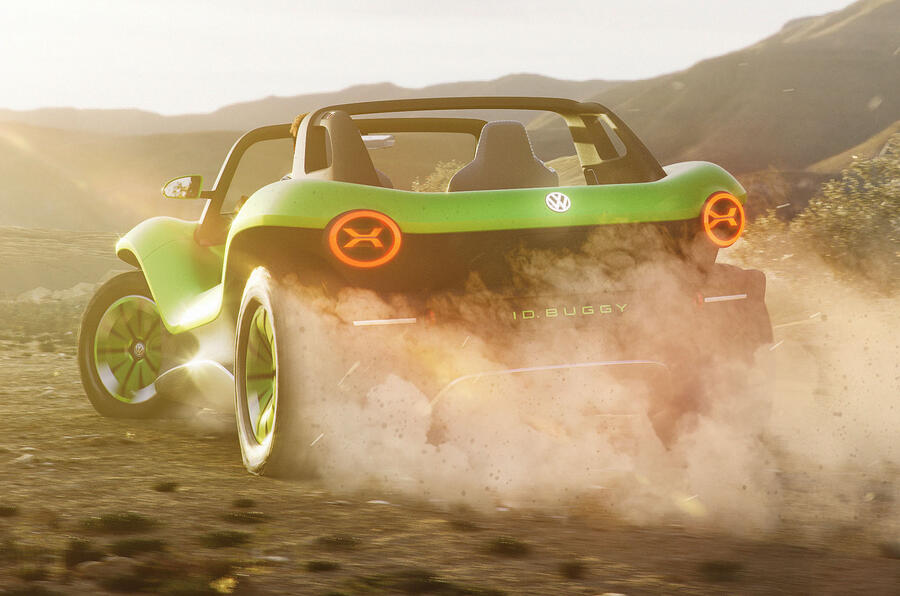 The idea is that the modular design of the MEB platform supports a detachable upper body – in the case of the ID Buggy, VW has used relatively cheap, lightweight composite bodywork. That makes it relatively simple and affordable for small manufacturers, engineering firms or start-ups to create their own body kits.
It's an idea that harks back to the small firms, led by Meyers Manx in California, that developed the original VW beach buggies. But the concept isn't a nostalgic nod: VW design chief Klaus Bischoff said the firm is "very serious" about encouraging outside firms to develop their own MEB buggies, and helping them to do it.
Bischoff said that opening up MEB as a platform to other firms can help VW learn. "We want to see what ideas companies can bring," he said. "It's an opportunity for us to learn, and to see what people and companies can create."
Now, that doesn't mean you're going to be able to buy an MEB chassis and knock up your own buggy in your shed. Bischoff has hinted that some form of licensing system will be in place, with Volkswagen either producing machines to the designs of approved firms, or supplying approved firms with MEB chassis. Clearly, if any projects lead to road-legal cars, any firms will have to be able to negotiation the necessary safety legislation.