Yep. Obvious choice, huh? Sure, you've heard it all before: "MX-5 is always the answer", "it's the people's sports car", "fast fun without the risk"... and so on and so forth. But 2020 has given us pause for thought in so many respects that it's worth revisiting just what makes Mazda's vaunted two-seater an object of affection for motoring enthusiasts and keen drivers across the entire spectrum.
The temporary closing of manufacturer press fleets at the onset of the first lockdown in late March was not without its challenges for us motoring scribes, but the resultant three months I spent as steward of this Soul Red 2.0-litre car came as no small consolation. The almost infallibly glorious weather that arrived at the same time - otherwise frustrating given the stay-at-home directive that had just been issued - only served to allow me first-hand experience of the attributes I'd been reading about for years.
It's not a luxurious car by any stretch of the imagination: no door pockets or glovebox and a tiny boot will put paid to any illusions you might harbour of this being a 'baby' grand tourer, but the subtle concessions it does make to usability place it leagues ahead of something more stripped back and focused like a Caterham Seven, and the malleability of its powertrain gives it the edge over full-bore supercars when you're feeling less frenetic.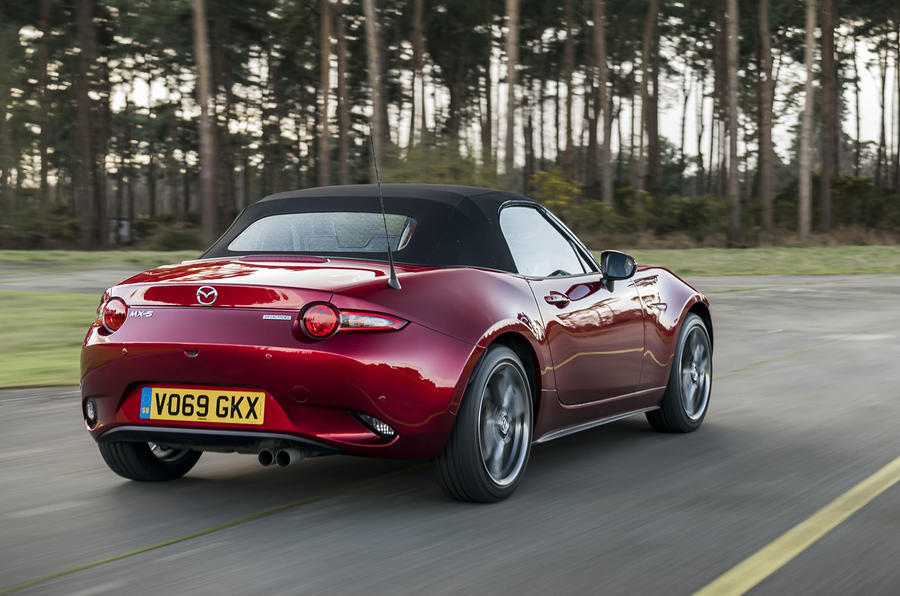 It's a lot of fun when presented with a suitably meandering stretch of Tarmac, no doubt, but you could quite feasibly argue that the MX-5 is at its most impressive on a simple trip to the supermarket. Show me another purpose-built, drop-top, two-seat sports car in which you can trundle along quite peacefully at 35mph, averaging 40mpg-plus and with your favourite podcast playing quite audibly over the sound of its engine, before rocking up, parking in a matter of seconds and not cringing every time a trolley comes near it.
Not a mind-blowing feat in wider automotive terms (we shouldn't applaud a car for the sole virtue of being fit for purpose) but that you can then dial in a hefty degree of exuberance for the drive home and keep pace with cars producing several times as much power (and costing several times as much) is testament to Mazda's extant affinity for versatility. That naturally aspirated, rev-hungry four-banger - even in smaller 1.5-litre guise - is arguably the most foolproof and accessible performance powerplant on sale, and although the MX-5 does allow you to explore the outer limits of rear-drive dynamics, you'd have to be going some to get it really wrong.