Let me tell you the parts on this car that are directly taken from a Volvo P1800. Relax, it won't take long. There's the metal in all the roof pillars. The handbrake lever. The bonnet release mechanism. And the windscreen wipers.
That's it. That's all.
A classic aviation restorer can pull a wrecked plane from a lake and reconstruct an entire vintage aircraft around a few salvageable parts. Think of the Volvo P1800 Cyan as doing something similar – except with rather less adherence to the original specification.
If you're not sure you've heard of Cyan Racing, located in Mölndal, just south of Gothenburg in Sweden, perhaps you've heard of Polestar. That was the race team and tuner that did such good things with Volvos that Volvo bought the name from it.
Still independent and now renamed Cyan Racing ('cos of the colour), the team is the official motorsport partner for Geely (Volvo's owner) and won the 2017 World Touring Car Championship with a Volvo S60 and the past two World Touring Car Cups for Lynk&Co.
The Touring Car Cup features cars built to 'TCR' regulations, somewhat simpler and more controlled than the earlier 'TC1' regulations the S60 was built for. Which meant after 2017 Cyan had 60 race engineers with some time on their hands, and an idea in their heads. This car – a restomod, although it's less resto than mod – is the result.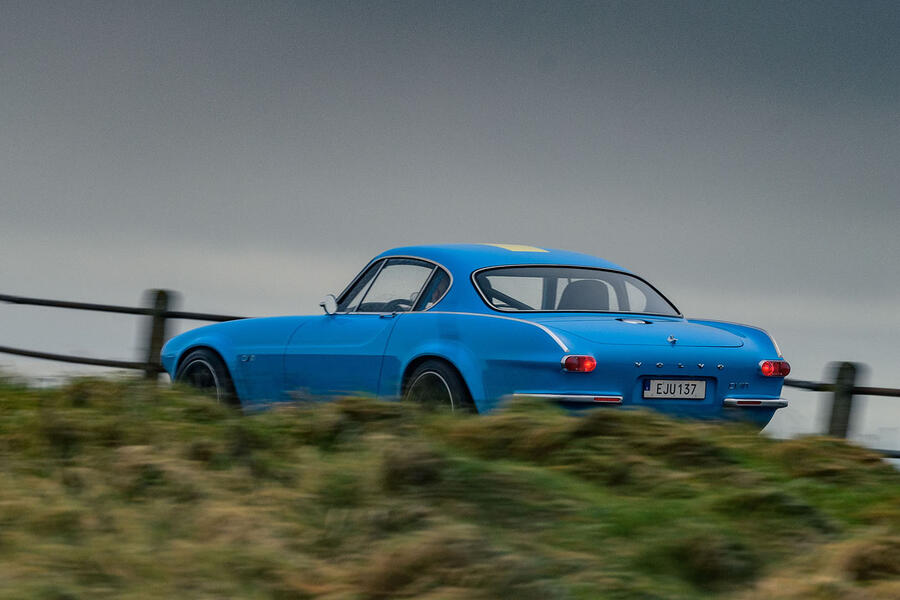 It's a two-seat, front-engined little coupé. The body is largely carbonfibre with high-strength steel in the floor and other places, all bonded neatly together to provide body stiffness that an early P1800 wouldn't even have dreamed about. There's a roll cage inside but this isn't a spaceframe chassis: it's instead carefully and neatly triangulated so that when you open the bonnet, all you see is structural sheet metal.