What is it?
You're looking at the new face of the Volkswagen brand.
Even more importantly than being a rival for added-desirability executive options such as the Audi A5 Sportback and a replacement for the old Volkswagen Passat-based CC, that is what the Arteon five-door hatchback represents. Except that Volkswagen calls this a 'fastback' because hatchbacks are, by and large, smaller, cheaper and far more ordinary. Of course they are. 'Fastback' executive cars are special; instantly much more appealing than a saloon with an otherwise mainstream badge might have been. Remember the Rover 800?
Where the Arteon leads, at least in styling terms, much of the rest of the Volkswagen passenger car range will follow. Let's wait and see if that's necessarily good news. The Arteon's grille and headlight styling will be particularly influential, Volkswagen says. The way those horizontal grille bars run seamlessly into the headlights is intended to make the front end seem wider and more impactful, helping to give this practical five-seater the visual presence of a sports car. Those curvy rear haunches, blistered wheel arches and sharp body creases are there to achieve the same effect. Likewise the availability of optional 20in alloy wheels for those who want them (naturally, Volkswagen did want them for the cars it used for its press demonstration drives).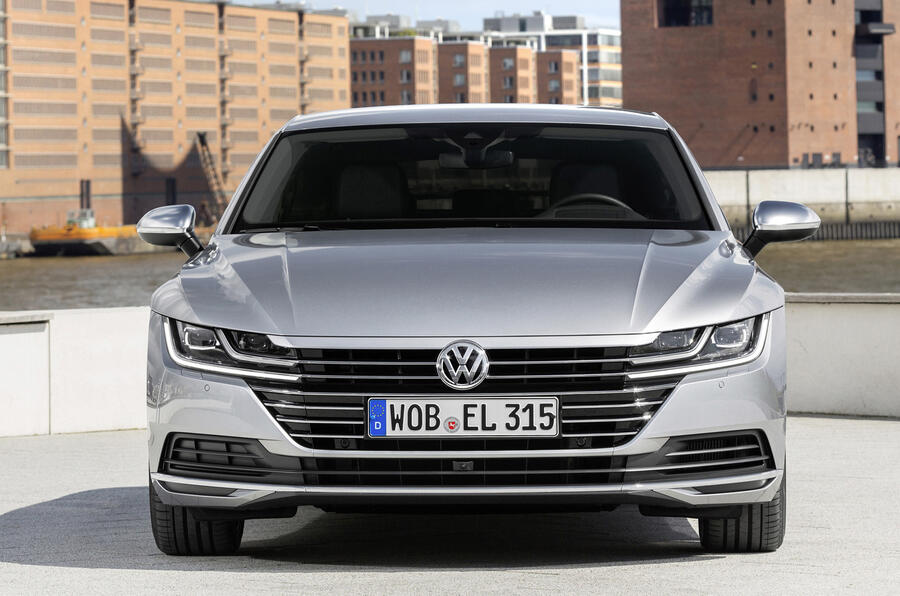 It's at this point that a diplomatic reviewer would normally reserve judgement on a car's aesthetics and crack directly on with matters less subjective. I'm not going to do that because it would be to ignore what ought to be one of the chief selling points of any car in this part of the executive car market; arguably an even more important one, too, in a Volkswagen starting at something of a disadvantage on brand allure when judged against many of its peers.
In the metal, the Arteon is short on visual charisma and distinctiveness to my eyes; it's smart enough, if a bit unimaginative and half-hearted. You can make your own mind up, of course. But having been down this road once before with the Passat CC and seen others follow its lead, I think Volkswagen should have known that it would take more than a plunging roofline and some frameless doors to make this car really stand out.