What is it?
The Mercedes-AMG E 63 S comes a long time after the wider world had its first Lotus Carlton moment. I wonder if it will have another, when will it sit up with a start and say: "A 600bhp, 190mph family saloon car? Are you completely mad?"
Anyway, here is a 600bhp family saloon. There are so many new cars. So many . You'd almost be forgiven for patting it on the head gently, knowingly, as it passes. Another new AMG. Welcome to the world, son, we know your brothers: dominated by their engines, lots of tyre smoke, that sort of thing. Sit yourself in that little niche over there, the one marked 'hot rod'.
Well, don't. This car isn't like other recent AMGs. Well, it is, but it's not only like other AMGs. There's a bit more to it than that.
Mechanically, there's a fair degree of what you know. The basis is the latest-generation Mercedes-Benz E-Class saloon. The design has been given the expected tweaks: it's subtle, muscular, more pumped up in the wheel arches, where it's 11mm wider to accommodate a wider track and 265/35 front and 295/30 rear 20in tyres. There's a diffuser, big exhausts and a lip spoiler on this saloon. An estate will follow late next year.
Under the resculpted bonnet is the latest iteration of AMG's 4.0-litre, twin-turbocharged V8. New for this E 63 is that the 'hot' turbos, which sit within the vee rather than down by the sides of the cylinders, where the centre of gravity would be lower, are twin-scroll units. So they have two tubes through them, each one putting air to two cylinders. So yes, while the centre of gravity is higher (bad) and the air perhaps hotter (also bad), the paths from turbo to cylinder are much shorter, which makes for improved throttle response times (good). It keeps the engine more compact, too. There are also two power outputs: 563bhp as standard, or 603bhp in the S version.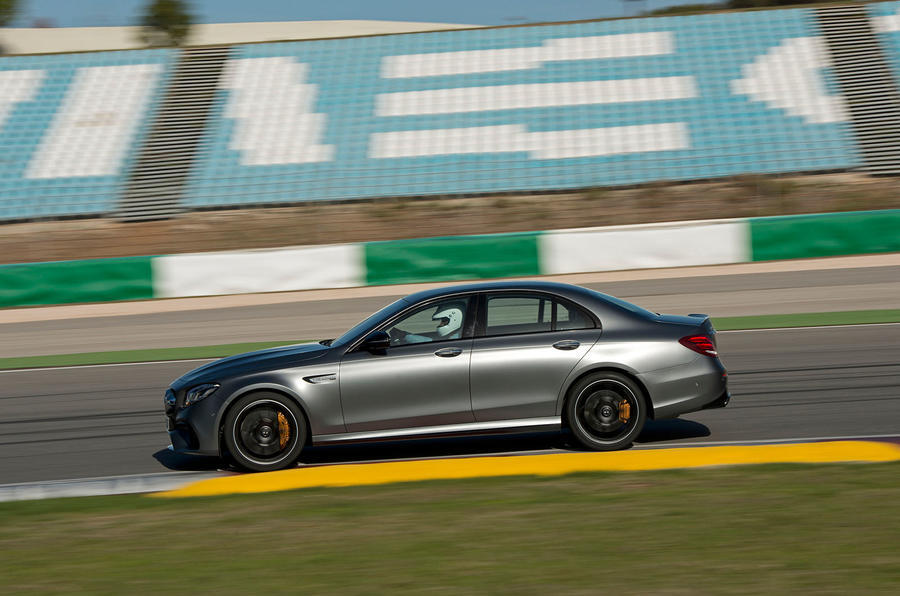 The V8 drives through a nine-speed automatic gearbox, the first time Mercedes' nine-speed 'box has been engineered to cope with this much torque. And if the E 63 S makes a lot of anything, it's torque: 627lb ft of it, from 2500-4500rpm. It's an automatic transmission rather than a dual-clutch unit, but instead of a torque converter, it gets a wet clutch.