Why we're running it: To see if the market's best-value SUV, now refreshed, still embodies the Dacia ethos of functionality with affordability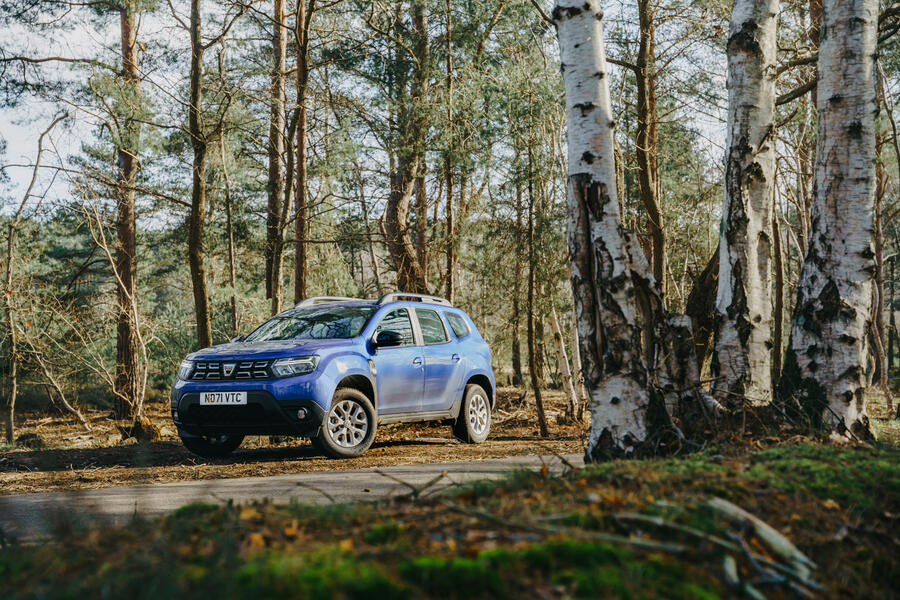 Life with a Dacia Duster: Month 5
Any interior cloth you like, so long as it's black. Which is just fine
I boast about the Duster all the time. Friends are getting bored with this; I can see it in their eyes. But every time the dark blue Romanian diesel 4x4 and I take a trip together, the essential refinement surprises me again, and these impressions are made pretty trustworthy by my contact with some of the Duster's higher-born rivals.
The other thing that gets me is how amazingly close this mid-range Comfort model gets to an ideal specification, showing the truth of Dacia's beguiling mantra: everything you want and nothing you don't. It's a pleasure consulting the configurator, getting to 'Interior', and seeing again that the choice is black fabric or black fabric. You can almost feel money dropping off the purchase price.
The cabin looks good and works fine, including in weather when comfort-lovers who drive leather-lined ritzmobiles must pay (including in weight) for integrated seat heaters.
We're up to 7500 miles now and I've given up counting the number of times I've grabbed the Dacia in preference to something f lashier, just because it's convenient, comfortable and modest.
Modest is important: I'm done with arriving at places where you're judged by your motor. I'd rather choose a car for my own reasons and park around the corner.
Of course, the Duster's not the perfect car. We had an early glitch with the electronics, although I think that was my fault for constantly tricking the stop-start by keeping my clog half on and half off the clutch.
There's a fair bit of hard plastic around the cabin, and as the weather warms, I'm noticing a section of trim buzzes. And the Duster does lean a bit in corners (as much because of the squashy 16in tyres as the suspension), although decent grip is there, rain or shine.
There's also a very odd, faint but persistent buffeting, evidently from underneath, that seems to occur at around 60mph when the wind's in a particular direction. And rear room is no better than in the smaller, cheaper Sandero I had before, even if the generous boot (with its optional £300 full- size spare) is part-compensation.