What is it?
The way Alpina goes about introducing new product to the press provides a first-class metaphor for its cars. Whereas BMW or any other car maker might launch a model over weeks or months to many hundreds of journalists and associated hangers-on, the launch of the new B5 saloon and estate was attended by 12 hacks, lasted one day and was twinned with the launch of the B3 S and B4 S models, of which more next week.
Our host was Alpina boss Andy Bovensiepen, who didn't just fly in, make a statement and bugger off again. No, he hung around for the duration, driving cars, checking tyre pressures and directing events. The last thing he did was give me his mobile number just in case I had any outstanding questions.
During presentations and conversations, talk was of 'cautious' component choice, 'modest' styling enhancement and development taking place almost entirely on the road and only at the Nürburgring and other tracks for extreme tyre testing, high-speed sign-off and other requirements that can't legally be satisfied on the street. And if you wanted one reason to explain why Alpinas feel the way they do, and why that feel is so utterly different from that of any other BMW, be it an M car or not, it is this understated approach that provides it.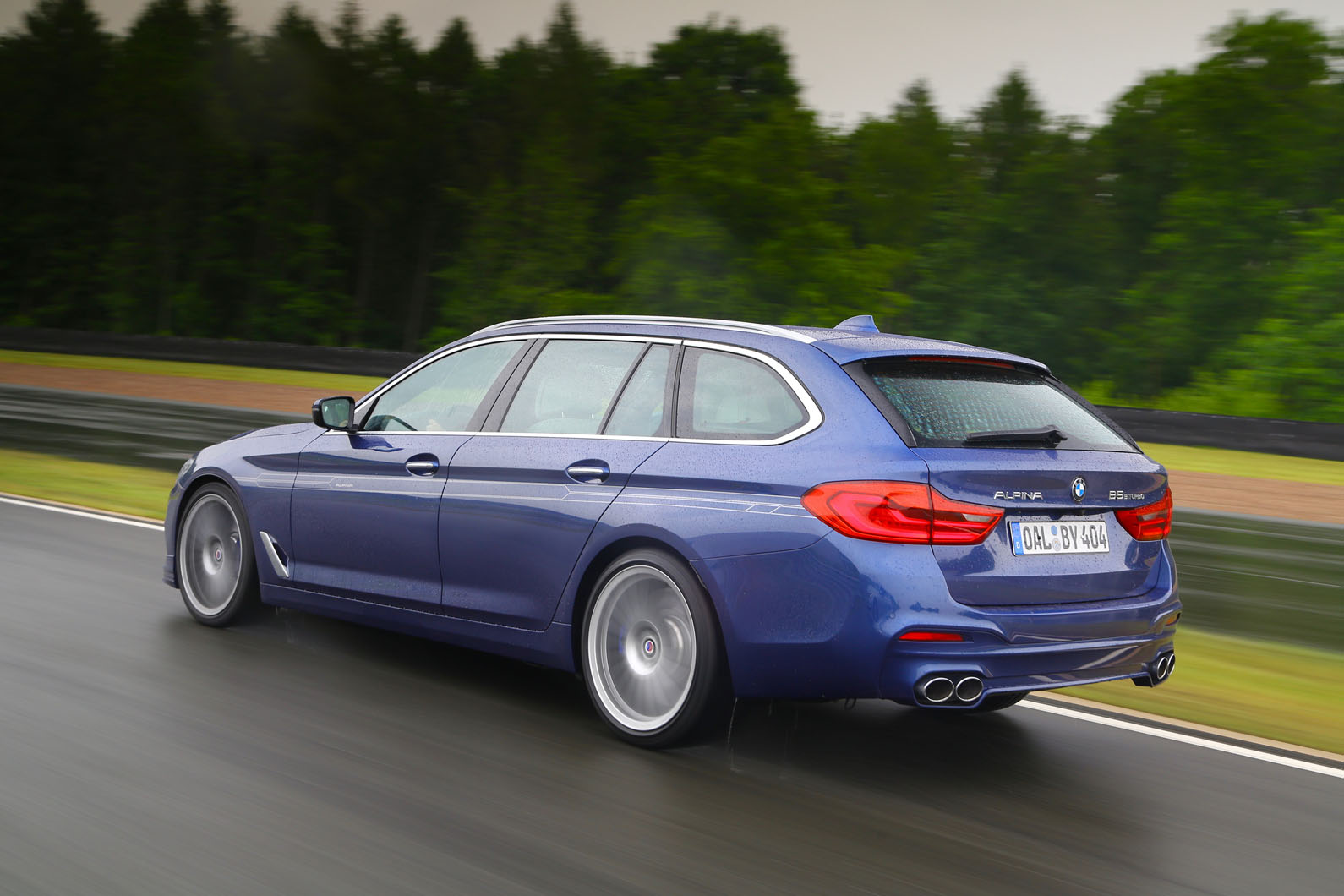 The B5 in general and the B5 Touring in particular are exemplars of the philosophy. Trademark 20-spoke alloy wheels aside, they seem so subtle and the polar opposite of the look-at-me approach preferred by BMW's M division customers. But the numbers speak for themselves: 600bhp, 589lb ft and 202mph flat out. And that's just the estate.
Of course, and weird though it seems to write it, the B5 is not the only 600bhp estate car out there: Audi and Mercedes have them, too. But it is the only BMW, Munich having again decided that non-existent US sales for cars in this format make its development pointless. But Alpina makes fewer than one car for every 1000 built by BMW, so this always has been and remains an opportunity. Indeed, Bovensiepen says most B5s sold will carry Touring bodywork.
The start point, clearly, is BMW's superb new 5 Series but powered by the 4.4-litre twin-turbo V8 currently found in its 750i big sister. The main focus of the modifications to it has been the fitment of bigger, twin-scroll turbos boosting at a muscular 1.4 bar. This is enough to raise power from a fairly lazy 444bhp to a very active 600bhp and torque from 479lb ft to 589lb ft.
The ZF transmission gets strengthened gear clusters and additional cooling, plus quicker shifts and a larger torque converter. Alpina says it can swap a cog in 0.1sec, which is rapid by any standards in the world.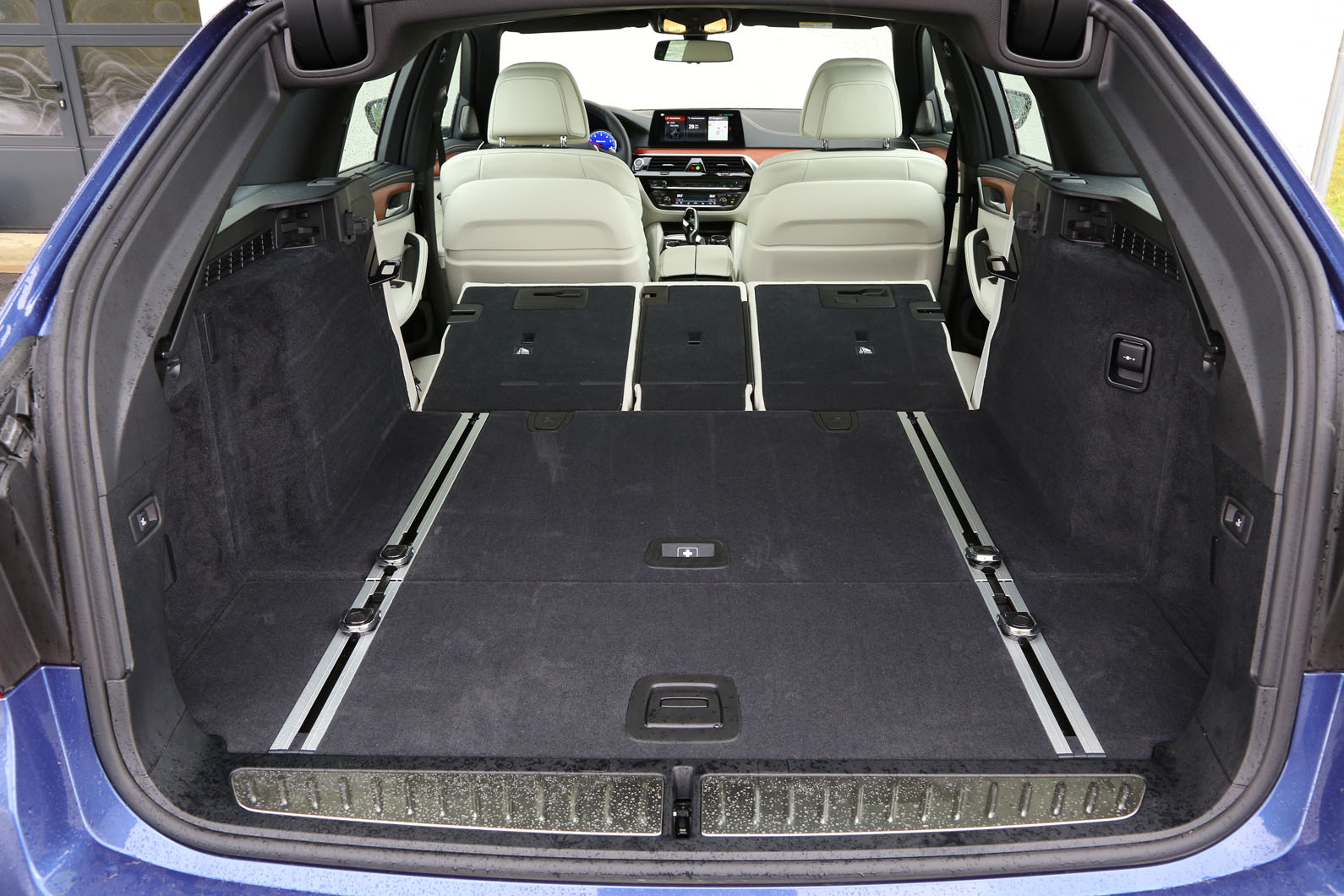 The real attention, however, has gone into the suspension. Chassis development chief Andreas Vollmer talks of all the days, weeks and months he and his team spend not hurling themselves around race tracks but just driving, using the cars as customers would. And then they change everything. You'd expect new springs, dampers and roll bars for a car such as this, but the geometry is different, too, and none more so than at the front, where there's an entire degree of negative camber that requires completely different wishbones in order to achieve it
At this stage, though, they're only getting into their stride. The car has BMW's four-wheel steering system, but specifically tuned by Alpina, and the software for the normal electric steering is completely rewritten. They even fit a different steering wheel because they don't like the squidgy rims found on BMW M cars any more than I do.
Four-wheel drive is fitted here for the first time in seven generations of Alpina 5 Series, but Bovensiepen rejects the suggestion that he had no choice in this. "We could have had a rear-drive B5 and I'd have preferred it, but even I accept that with 589lb ft, the customer wants four-wheel drive," he says. So they fiddled with that, too, and now the B5 sends more of its torque (up to 90%) to the rear wheels and does so more of the time. Interestingly, despite the all-wheel drive hardware adding 70kg, the entire car is 30kg lighter than the previous, rear-drive B5. And Alpina has broken with years of Michelin-shod tradition and developed a new Pirelli tyre to go with the car.