Alpina has announced pricing for the saloon version of its D5 S diesel at the Frankfurt motor show. The 171mph diesel super saloon starts in the UK at £62,000, although the estate will not make it to British roads.
The D5 S has been fine-tuned for Britain with sharper handling and a lighter set-up than European versions. In order to cater to the UK's narrower, potted roads, the model has shed 100kg thanks to the use of a twin-turbo 3.0-litre straight-six as opposed to a triple-turbo version offered on the continent, and the Twinpower turbocharger offered in the 530d.
Alpina GB said it prioritised this more nimble set-up over the additional grunt offered with European cars. The lighter D5 S produces 322bhp and 516lb ft, which is 60bhp and 74lb ft down on Euro-spec cars.
But the UK D5 S get the brand's Integral Active Steering as standard. This four-wheel steering system is said to boost low speed manoeuvrability and high-speed agility, with Alpina CEO Andreas Bovensiepen claiming it makes the D5 S "feel like a 3 Series" sized car.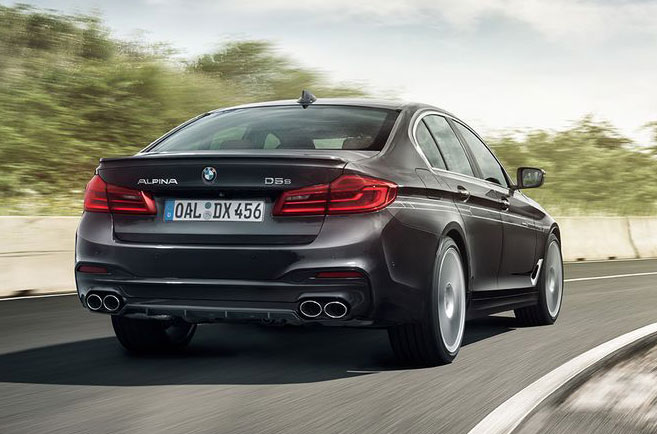 It also uses UK-specific Alpina Dynamic Drive electro-mechanical anti-roll technology, which enables softer damping to absorb bumps but minimises body roll in turns. The car sits on the same 20in Alpina Classic wheels as its European cousins. The intercooler has been increased in size by 20% over the standard 530d's, while a tweaked induction system reduces pressure losses by 30%.
Alpina claims that its braking system resists brake fade more effectively than ceramic systems offered elsewhere, while the larger rear brakes, which receive less cooling air, are bigger than the fronts to help shed heat from their larger surface area. Rear-wheel steering is available as an option, although Alpina hasn't revealed how much it will add to the £62,000 asking price.
All four wheels are driven via an eight-speed ZF gearbox, with a quoted 0-62mph time of 4.9sec and top speed of 171mph. This makes the D5 S six-tenths quicker to reach 62mph than BMW's quickest oil-burning 5 Series, the 530d xDrive, and 16mph quicker than that car's limited terminal velocity. The D5 S is also claimed to offer 46.3mpg and emits 161g/km of CO2.