Between now and 2026, when BMW takes the reins, Alpina will make fewer than 6000 cars. And after that, nobody outside of either company truly knows what will happen.
There's a fair chance that Munich will leverage Buchloe's reputation for lavish interiors and general bespokery to create a neat stepping stone between M and Rolls-Royce, but whether the cars will continue to be so assiduously honed in mechanical terms is less certain. I wouldn't bet on it, because with the Bovensiepen family out of the picture, profit will probably take precedence.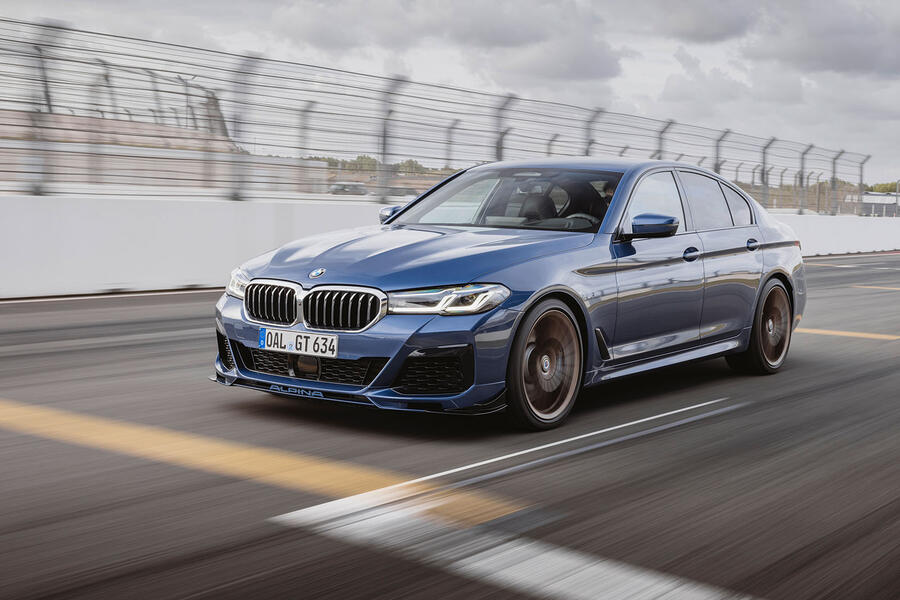 Of those 6000 cars to come, only a tiny portion will be a B5 super-saloon. This model is based on the existing and outgoing M550i but is taken to serious heights in performance and breadth by Alpina's 100 or so engineers. The B5 (historically called the B10) tends to be the flag-bearer for Alpina because it best encapsulates the brand's approach: crushingly quick and delightful to live with but not one to shout about it.
The current model is no different. Supercar-fast in a straight line but limousine-slick in its ride quality, it doesn't change direction like BMW's M5 does but has more than good enough body control, adjustability and steering precision that you would happily take the more interesting way home every time. It's an exceptional all-rounder.
Which brings us to the new B5 GT, a car that is everything the regular B5 is, and a little bit more. In many ways, this special model is not only a sign-off for Alpina's fine involvement with the G30 5 Series but a £125k valedictory firework for the company's entire six-decade history of building cars based on new BMWs.
Only 250 will be made, mostly in Touring estate form, and all are already sold. Deliveries will start later this year, but if you're one of the 80 or so who have optioned the full Lavalina leather interior, you may well be waiting until the end of 2024, as Buchloe's 'saddlery' can't rush things.
Mechanically, the B5 GT is mostly unchanged from the usual B5 (now no longer offered), but a new intake and an electronic tickle have lifted the output of the twin-turbocharged 4.4-litre petrol V8 from 612bhp to 625bhp, making this the most powerful car in Alpina's history. Official top speed is 205mph, but unofficially the car hits a true 220mph.
However, what gives this car such outrageous mid-range, real-world performance – outrageous enough for it to feel not at all impotent even on the expanse of an FIA Grade 1 circuit like Zandvoort, where we have it – is the torque. From 3500rpm, this car makes 13% more than the M5 CS, at 627lb ft. That's about as much as Aston's recent DBS 770 Ultimate.