The regime for assessing the safety of self-driving car systems is under scrutiny after consultants discovered errors in an analysis of Tesla crashes by a US government agency, which then delayed release of the data for two years in an apparent attempt to divert attention from the issue.
Quality Control Systems Corp (QCSC) made a deep-dive into data that purported to back up an impressive claim by NHTSA, the powerful US road safety body, and Tesla that the Autosteer system in Autopilot had reduced serious accidents by 40% — a game-changing improvement.
Tesla boss Elon Musk tweeted the results as NHTSA's findings were released in January 2017.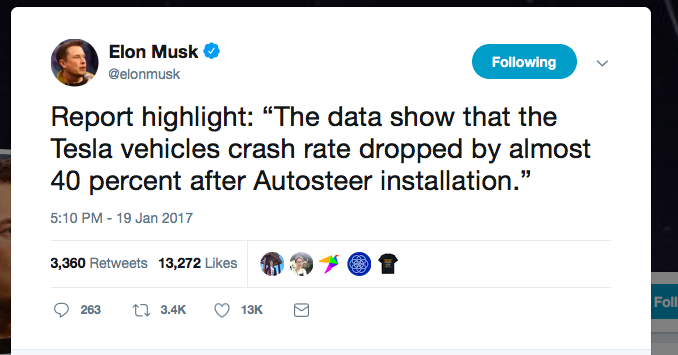 But QCSC found that the NHTSA analysis failed to take into account all the mileage driven by the 43,781 vehicles studied. In fact NHTSA only used mileage data for 14,791 vehicles. As a result, the crash rate before Autosteer was inflated, leading to the wrong conclusion, says QCSC.