More than a few people are trading up/across from conventional hatchbacks into crossovers like — or even such as — the Renault Kadjar.
As you may recall, before the Kadjar I spent a year in a Ford Focus, so I feel well qualified to make some comparisons, especially given that the Focus is about as conventional a hatchback as you're going to find.
There's much I like about the Kadjar, but compared with the Focus it feels quite big.
I was going to write that the Kadjar is about as big a car as I'd be happy to use every day, for school runs, town trips, awkward car parks and the like, but I was reasonably surprised to discover that the Renault and the Ford are remarkably similar in size.
Amazingly (well, I was amazed), the Kadjar's wheelbase, at 2646mm, is 2mm shorter than the Focus's, and its front overhang (from the centre of the front wheel to the limit of the bumper), at 897mm, is 1mm less than that of the Ford.
The Kadjar is 13mm wider, at 1836mm to the Ford's 1823mm, and overall it is 89mm longer (4449mm versus 4360mm), but all of that is aft of the rear wheels. The boot, basically.
And yet the Kadjar feels both roomier inside and less wieldy in town and when parking, and it's not the extra length to the rear that's the issue.
Much of the increased sense of size comes from the raised ride height and driving position.
The Kadjar is 144mm taller than the Focus, with all of the extra height added low down, if that makes sense.
There's actually 20mm less head room in the Renault, but despite sitting higher up, the view immediately in front of the bonnet is nowhere near as good as it was in the Focus and it's much harder to judge where the nose and front wheels are.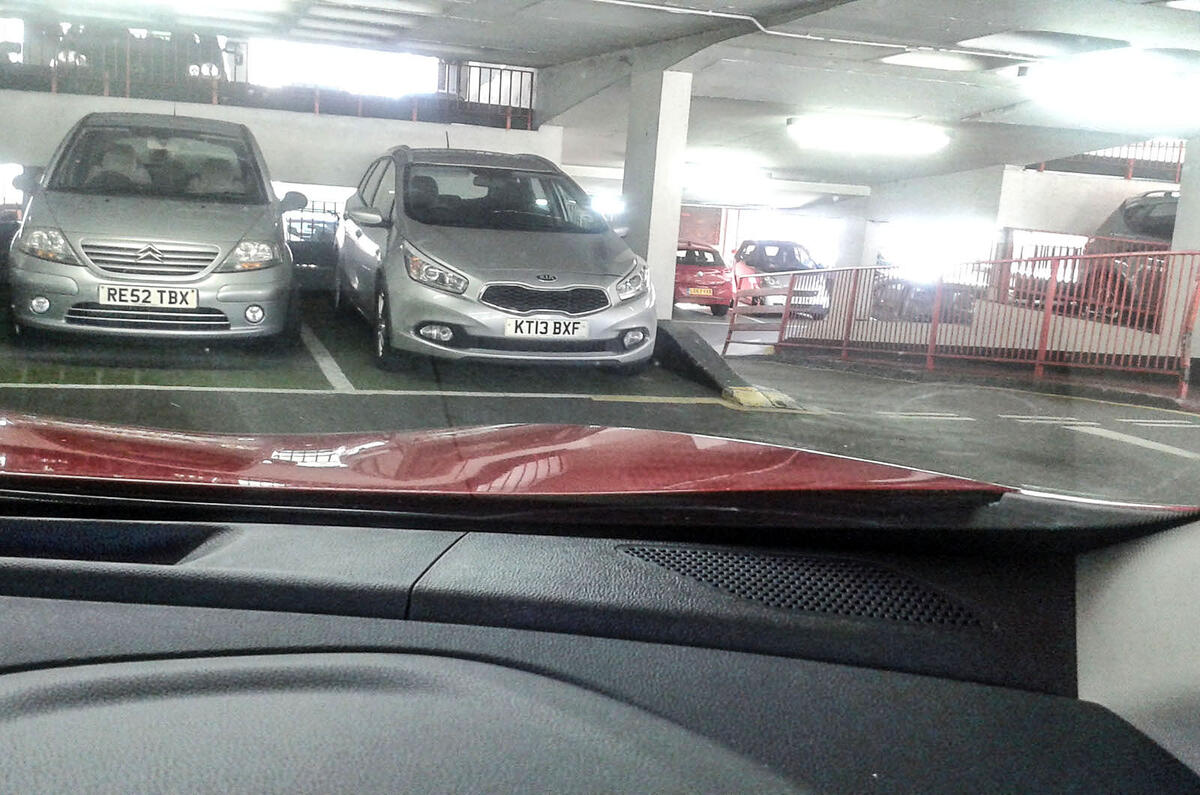 The raised bonnet and almost wave-like styling flourishes on top of each wing don't help when it comes to placing the car accurately, either.
As it is, I'm really relying on the parking sensors.
I was convinced they weren't properly calibrated at first and was sure I was going to hit something, but their red alert 'collision imminent' warning actually comes on with at least 30cm to spare.
Still, I'm getting used to it.
Certainly, the rear cabin is more spacious than the Focus's, presumably because the back seats are sited a little way farther rearwards thanks to the space behind them.
According to our road test tape measure, typical rear leg room in the Renault is 720mm and it's 660mm in the Focus.