While plans develop for hot new versions of Volkswagen's electric-powered ID models, the company's R division is expanding into a new niche for its combustion-engined cars.
Having recently added the 296bhp T-Roc R to its ranks, Volkswagen's performance division has now turned its attention to the Arteon line-up. A new 329bhp range-topping Volkswagen Arteon R saloon will arrive during the final quarter of 2020 as part of the range's mid-life facelift, and it's already been spotted out testing with the usual R design cues such as quad tailpipes and blue brake callipers.
Following the hot version of the Arteon saloon, Volkswagen R plans to unleash a similarly powered version of the upcoming Arteon Shooting Brake in the first half of 2021.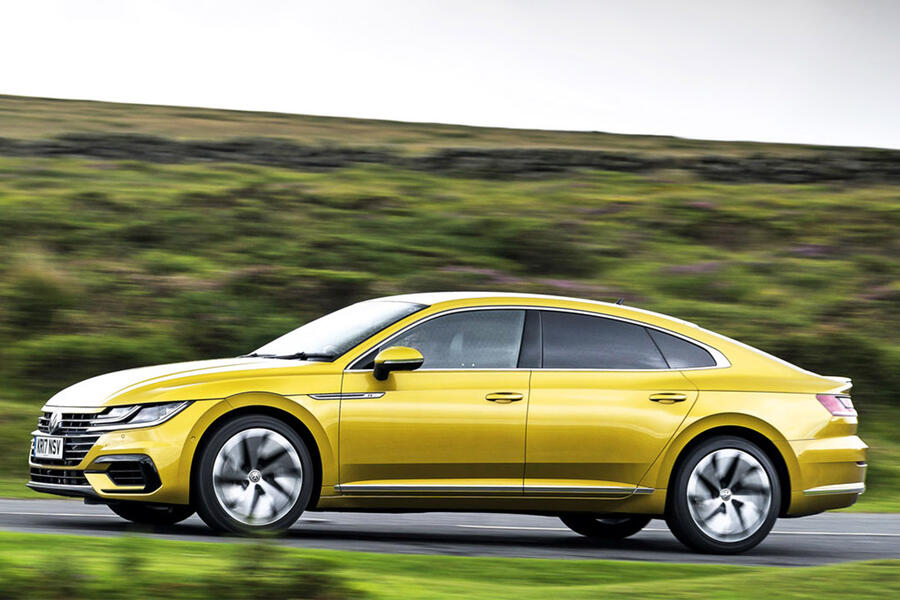 The coupé-cum-estate, which will be launched in standard form first at the start of the year, has the distinction of being among the last all-new combustion-engined models developed by Volkswagen.
In a bid for added practicality and greater load space, the Arteon Shooting Brake adopts a longer roof and sloping tailgate. The result gives it what Volkswagen insiders describe as "estate-like qualities while retaining its characteristic styling".
Power for the new Arteon R is due to come from the same version of Volkswagen's turbocharged 2.0-litre engine that is earmarked for the new Golf R, which is also set to be launched during the second half of 2020.
According to details revealed at a recent Volkswagen dealer presentation in Germany, the four-cylinder petrol unit is claimed to develop up to 325bhp and 332lb ft of torque. It sends its drive through a seven-speed dual-clutch gearbox and a four-wheel drive system that, Autocar understands, has been reworked to provide a more rearward apportioning of drive.
By comparison, the most powerful of today's Arteon models, the 2.0 TSI, offers 187bhp and 236lb ft.