Tesla boss Elon Musk claims that 200,000 people have placed a deposit for the firm's Cybertruck, less than a week after the radical pick-up was revealed.
The futuristic-looking Ford F-150 rival was revealed at an event in California last Thursday, and is due to go on sale in 2021 with three different versions planned.
On Saturday, Musk tweeted: "146k Cybertruck orders so far, with 42% choosing dual, 41% tri & 17% single motor." On Sunday night, he added another tweet simply saying: "200k."
The Cybertruck is available to reserve for a $100 (£77) fully refundable deposit, which means there's no guarantee all those reservations will eventually become firm sales. The rush to order has netted Tesla $20 million (£15.5 million) in cash.
Musk added that the Cybertruck would be the "last product unveil for a while, but there will be some (mostly) unexpected technology announcements next year."
The all-electric Cybertruck is the same length (5.87m) as traditional competitors, but that's where the similarities end. For starters, it features a radical wedge-shape design unlike anything else, which Tesla CEO Elon Musk insists isn't far from production readiness.
The Cybertruck's promised spec list is equally stunning. Three powertrain options will be offered with one, two or three electric motors. The single motor, rear-wheel-drive-only version is said to do 0-60mph in 6.5sec, with no quoted battery size but a claimed range of 250 miles. It can also tow 3400kg and has a 1360kg payload. This is said to cost from $39,900 (around £30,600) before any government incentives.
Opinion: is the Tesla Cybertruck too extreme?
Next up is the mid-range dual-motor variant, offering all-wheel drive, a claimed 0-60mph time of 4.5sec and the ability to tow more than 4500kg. That's said to cost $49,900 (£38,300) before incentives.
The crowning glory is the top-level car, using Tesla's latest tri-motor 'Plaid' EV powertrain. Priced from $69,900 (£53,700), its specs include a claimed 500-mile range on a charge, 0-60mph in just 2.9sec and the ability to complete the quarter mile in just over 10sec. The towing capacity is 6350kg, Musk claims.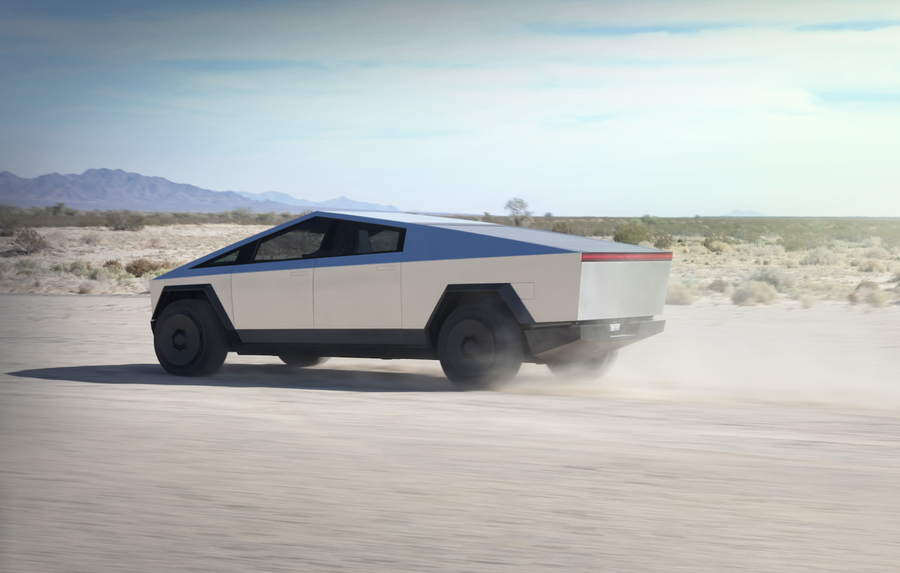 The Cybertruck's angular body is said to be made of "ultra-hard 30X cold-rolled stainless steel". It's said to be bulletproof for up to 9mm rounds, with Musk stressing the body's ability to resist damage with multiple implements (including a sledgehammer) used to try to break it on stage. However, this plan backfired when Tesla's head of design smashed both left-side windows by throwing a metal ball at them, prompting Musk to quip: "Room for improvement."
The load bay is 6.5ft long, the same as that of a standard Ford F-150, and features a raisable cover. Tesla claims over 2800 litres of lockable storage space including the covered load bay (dubbed the 'vault'), as well as space in the "frunk" and sail pillars.