Skoda has revealed the new Skoda Kodiaq GT, the brand's first SUV-coupé that will serve as its flagship model in China.
The GT is based on the existing five-door Kodiaq, which is already built in China for the domestic market alongside the Kamiq and Karoq SUVs. Although it shares its front end with the regular Kodiaq, the GT loses the third-row seating option and has a sloping roofline that leads to a squat rear end.
The Kodiaq GT, which was revealed at this week's Guangzhou motor show, will be built and – for now – exclusively sold in China. It will be in dealerships there before the end of the year, manufactured as part of a joint venture between local car maker SAIC and Skoda.
Matching a design trend that will be seen on the upcoming Scala family hatchback, the Kodiaq GT features the Skoda name in letters on the bootlid, rather than the firm's logo.
The Kodiaq GT will be offered with a choice of 184bhp and 217bhp 2.0-litre turbo petrol engines, with front-wheel drive and four-wheel drive respectively. The more powerful engine also features a seven-speed dual-clutch automatic gearbox.
While the Kodiaq GT is currently only intended for the Chinese market, the firm is understood to be keen to offer it elsewhere following a positive reception. However, Skoda is currently running at production capacity in Europe and has nowhere to build it, delaying a potential introduction.
Previously released shots of the interior can be seen to share much with the regular Kodiaq, but with a sportier seat design to reflect a more athletic identity.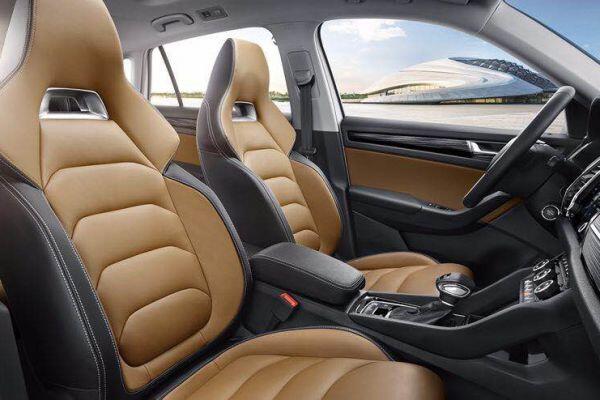 The Kodiaq GT will look to replicate the success premium brands such as BMW and Mercedes-Benz have had with SUV-coupés, with the BMW X4 and BMW X6, as well as the Mercedes-Benz GLC Coupé and GLE Coupé.