Mercedes-Benz is several months away from revealing its new GLE Coupe SUV, but spy photographers have already caught a hot AMG version testing in disguise.
The sloping roof version of Mercedes' latest GLE, which recently went on sale in the UK, isn't due to make its debut until mid-2019, with deliveries towards the end of the year. These shots show the GLE Coupe will feature an evolutionary profile and similar shape to the outgoing model, but with front- and rear-end designs adapted from the latest GLE and a more steeply raked roofline.
Updated: See the new Mercedes-AMG GLE 53 Coupé here
The GLE Coupe sits on the same MHA (Modular High Architecture) platform introduced with its straight SUV sibling, introducing more space for rear-seat passengers and the capability of offering hybrid variants across the line-up.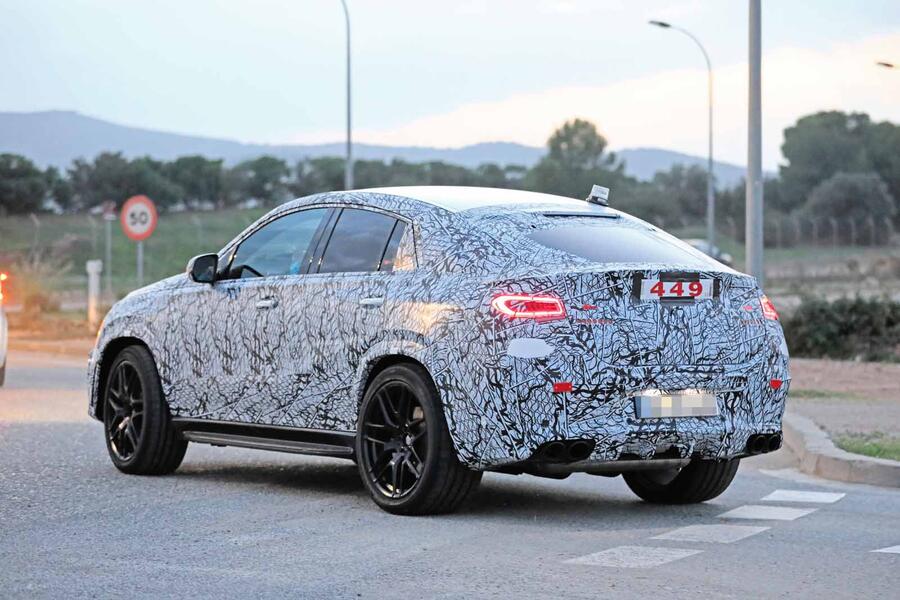 A selection of four- and six-cylinder turbocharged petrol and diesel engines will power the GLE Coupe's standard line-up. The range will be topped initially by an AMG-tuned GLE 53, using the same 429bhp 3.0-litre inline-six petrol unit as the CLS 53 four-door coupé. That makes use of a mild-hybrid system featuring an integrated starter/generator adding up to 184lb ft of torque when needed.
The engine, also expected to arrive on the GLE SUV next year, should make the GLE Coupe capable of 0-62mph in just under five seconds, while offering improved official economy over the old GLE 43 equivalent. It will be mated to a nine-speed automatic gearbox and Merc's 4Matic four-wheel-drive system.
In 2020, Mercedes is expected to top out both GLE ranges with full-fat AMG 63 variants, offering around 600bhp from the now-familiar 4.0-litre 'hot vee' twin-turbocharged V8. That engine could potentially see a hybrid system integrated into it, improving roll-on performance and official economy.
Read more