Sources at Mercedes-Benz's AMG performance car off-shoot have confirmed the upcoming four-wheel drive E63 AMG will be sold with the choice of two different power outputs when it reaches the UK in 2017.
Mercedes-AMG E 63 Estate revealed as fastest wagon yet
Backing up recent comments by AMG chairman, Tobias Moers, who revealed at the recent Paris motor show the new performance saloon and estate will run the twin-turbocharged 4.0-litre V8 engine used by other recent AMG models, sources have now confirmed the standard E63 will offer 563bhp and 553lb of torque, with the top-of-the-range E63 S packing 603bhp and 626lb.
The new E63 will also receive a new nine-speed version of AMG's SpeedShift automatic gearbox along with a four-wheel drive system as standard for the first time, consigning the old seven-speed Speedshift gearbox and rear-wheel drive layout used by earlier incarnations of Affalterbach's iconic performance saloon and estate to the history books.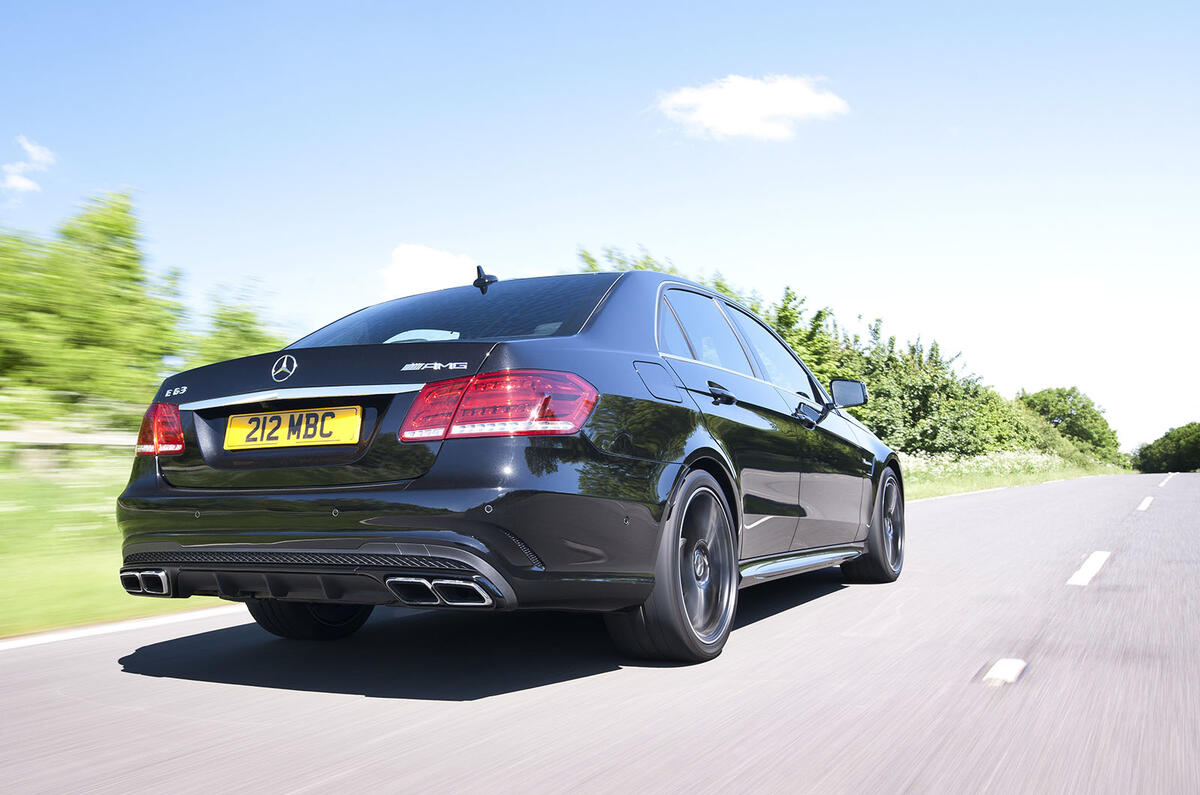 The outgoing second-generation E63 is powered by a twin-turbocharged 5.5-litre V8 petrol engine delivering 549bhp and 531lb ft of torque in standard tune and 577bhp and 590lb ft in so-called S tune.
The increase in power is claimed to provide the standard version of the 2017 model year E63 with a 0-62mph time of 3.7sec. The even more powerful E63 S is said to run the benchmark in a supercar challenging 3.5sec.
"It's the biggest step we've ever made with the Mercedes-Benz E-Class," says Moers.
For context, the 552bhp twin-turbocharged 4.0-litre V8 powered Audi RS6, which also runs four-wheel drive as standard, boasts an official 0-62mph of 3.9sec.
Despite the focus of performance, Moers rules out an R version of the E63."The R is dedicated for GT. There is no intention to use it for the E63," he says.
Opinion - is the Ford Focus RS's drift mode dangerous?
The fully variable four-wheel drive set up, which is capable of apportioning up to 100 per cent of drive to the back wheels, has been developed to provide a distinctive rear wheel drive bias in a move Moers hints will see the new E63 continue to offer power oversteer traits despite the move to four-wheel drive across the model range.
"It is four-wheel drive and we're going to have a Drift Mode," Moers revealed to Autocar at the unveiling of Mercedes-AMG's new GT Roadster and GT C Roadster at the Paris motor show.
The 50-year-old AMG chairman confirmed a program included in the E63's standard electronic stability control system, which provides added torque to the rearward bias of drive to create a slide, will be called Drift Mode.