Aston Martin has revealed the new Vantage Roadster, which the company hopes will provide a boost to underwhelming Vantage sales. The Porsche 911 Cabriolet rival costs from £126,950 and is available to order now, with deliveries beginning in the second quarter of this year.
That price would have been a modest £6000 increase over that of the hard-top but, with the manual 'box recently introduced, the list price of the coupé has been reduced from £120,900 to £114,800.
The convertible Vantage is said to "amplify the emotional appeal" of the two-seater and receives what Aston claims is the fastest fully automatic soft-top hood in the business, going from opened to closed and vice versa in under seven seconds at speeds of up to 31mph.
The roof itself adds a modest 60kg to the overall weight of the Vantage thanks to a 'Z-fold' roof mechanism and lightweight structural bracing. It means the Roadster, which uses the same 503bhp 4.0-litre V8 as the coupé, is capable of 0-60mph in 3.7sec and a top speed of 190mph, figures that are 0.2sec and 5mph slower than those of the hard-top car.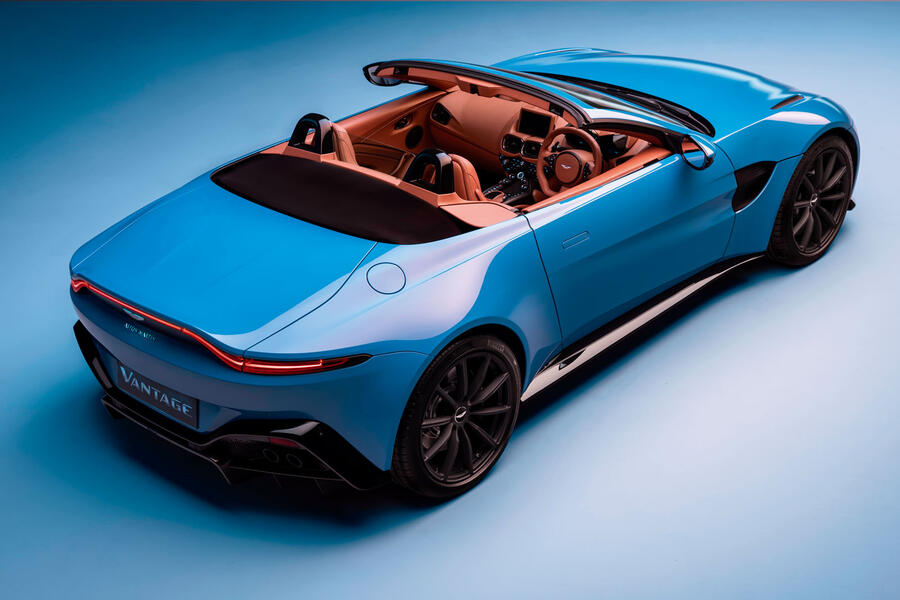 Aston says the Roadster retains the coupé's "strong dynamic ability and sporting character with no compromise to feel or refinement". It uses the same electronic and mechanical chassis systems as the coupé but has a bespoke tune for the rear suspension, altered software for the adaptive dampers and a recalibrated ESP system. The three-mode chassis control system has also been tuned specifically for the model.
The Vantage loses 150 litres of boot capacity compared with the coupé, keeping an albeit respectable 200 litres, which Aston says is large enough for a full-size golf bag and its accessories.
The British manufacturer is also using the launch of the Vantage Roadster to introduce a range of new options across the Vantage range. Most notably, the seven-speed manual gearbox launched on the limited-run Vantage AMR is now available to order on the standard coupé. There's also a new, more traditional 'vane' grille design option that can be ordered on both the coupé and the drop-top, sitting alongside the existing 'hunter' grille. New colour finishes and alloy wheel designs are also available.