Mercedes has updated its Mercedes Mercedes-Benz V-Class with refreshed exterior and interior styling and a new 2.1-litre four-cylinder diesel engine that produces 236bhp in its highest state of tune.
The large MPV, based on the Vito van, was first launched in 2014 and has now been updated to bring its styling and technology more in line with the rest of the Mercedes range. It will continue to be offered in three different sizes (Standard, Long and Extra Long) and will be followed towards the end of ths year by Marco Polo and Marco Polo Horizon campervan versions.
The previous V-Class's 2.1-litre diesel engine has been switched for Mercedes' four-cylinder OM654 unit, which will be available in two states of tune. The V250d produces 187bhp and 324lb ft, matching the output of the previous highest spec, while the V300d makes 236bhp and 369lb ft, with the ability to briefly offer an additional 22lb ft in an 'over-torque' mode under acceleration. It has a 0-62mph time of 7.9sec and a top speed of 136mph.
Depending on bodystyle, both the V250d and V300d have official fuel economy of between 44.84 and 47.88mpg and emit between 154 and 165g/km of CO2. Mercedes says the V250d offers fuel savings of around 13% over its predecessor. A lower-spec V220d is expected to follow later, matching the entry level offering of the current V-Class.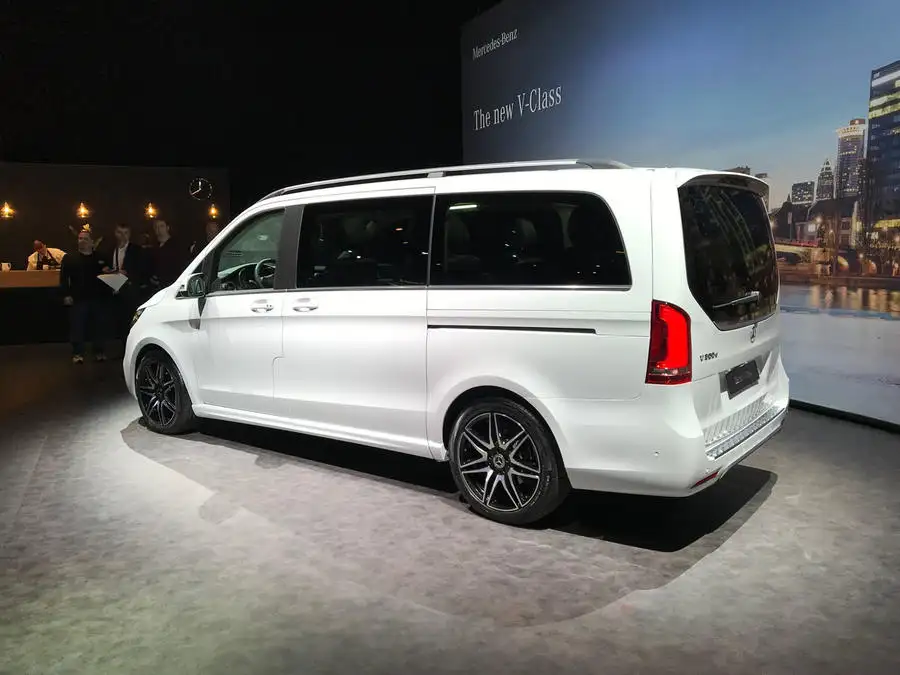 The previous seven-speed automatic gearbox has been replaced by a new nine-speed unit, with retuned Comfort and Sport driving modes. Three different chssis versions will be available with differing suspension settings, although all UK cars will get the Agility Control suspension. British buyers will be able to choose from Sport and AMG Line trims, with the latter featuring a bespoke grille design.
Rear-wheel drive is standard, with permanent four-wheel-drive available as an option in Europe, although it will not be offered in the UK. Automatic emergency braking is offered for the first time, alongside other driver aids including blindspot monitoring and lane-keeping assistance.